Lance Gordon's running out of room and time. Back in the Sierras, he killed the man who murdered his father. Unfortunately, that man turned out to be a deputy marshal, and now Lance has a price on his head. Lance wants only to live in peace, but he'll have to go through hell to get there.
Running from the law and the cavalry, Lance heads for the one place no sheriff or soldier will go—into the territory ruled by The Baron of Coyote River. The Baron is the king of the cattle rustlers—as feared and hated as he is powerful. No one dares take him on … until now.
Lance is sick of running, and taking on the Baron is his last chance for a second chance. Before the battle is over, Coyote River will run red with blood, as Lance has vowed to redeem himself … or die trying.
Also includes the Western adventure, "Reign of the Gila Monster," in which a stranger rides into the roughest, toughest town in the West—and sets out to show the town who's boss.
"It delivers plenty of action." —AudioBook News Service
*An International Book Awards Finalist
SAMPLE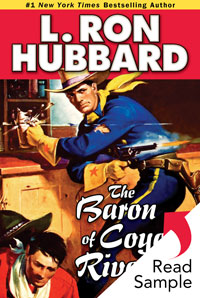 ABOUT THE AUTHOR
L. Ron Hubbard often reminisced about his rough and tumble childhood in Montana. "At the age of three-and-a-half, I could ride quite well … They never let me ride any blooded stock; they always insisted that I only ride range broncs and mustangs. It did not matter how often I was thrown when a mustang exploded under me, it was I who was always scolded and cautioned not to be mean to the horses." Memories such as this remind us that Ron Hubbard himself inhabited the world of The Baron of Coyote River.