As a young man, Monte Calhoun was as wild as they come, thinking the measure of a man was how hard he could drink and how straight he can shoot. But several years of schooling back East have changed him. Now, steadfast and principled, Monte has become The No-Gun Man.
The East Coast has civilized him, and he's bringing some of that civilization home to Superstition, Arizona … even if it means refusing to avenge the murder of his own father. Monte's come back for one reason—to rescue his younger brother from this lawless land and take him back East.
But out here in a land of frauds and outlaws and ambushes, a man's principles have a way of folding under pressure—especially in the face of gunfire. And Monte's no different. It's only a question of how far he'll be pushed before he starts pushing back … with a vengeance.
Also includes the Western adventure, "Man for Breakfast," in which the victim of a robbery will leave no stone unturned and no outlaw alive in his search for justice—even as he faces bullets, a hanging rope, and a startling revelation.
SAMPLE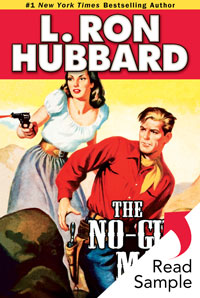 ABOUT THE AUTHOR
Hailing from the western states of Nebraska, Oklahoma, and Montana, L. Ron Hubbard grew up surrounded by grizzled frontiersmen and leather-tough cowboys, counting a Native American medicine man as one of his closest friends. When he chose to write stories of the Old West, he didn't have to go far to do his research, drawing on his own memories of a youth steeped in the life and legends of the American frontier.