When it comes to boiling up a pot of coffee or stirring up a pot of stew, Old Laramie's about as good a man as you're going to find. But other than cooking three squares a day for the cowpunchers over at the Lazy G ranch, Laramie's not good for much.
But Laramie's luck—and life—are about to take an amazing turn. Quite by accident, he somehow manages to save a family of Mexicans from bandits, and as a token of their gratitude they give him The Magic Quirt—a horsewhip that he's told will turn him into a new man.
The transformation is indeed magical. Suddenly Laramie is performing feats of ingenuity and courage that would make even the Lone Ranger proud. But magic is a funny thing—and as Laramie's about to discover, sometimes it's all an illusion.
Also includes the western adventures, "Vengeance Is Mine!," the story of a young man who sets out to avenge his father's death only to commit an act beyond redemption; and "Stacked Bullets," in which a game of chance is fixed, a whole town is cheated, and nothing but a stack of bullets can make things right.
"Pure entertainment from first page to last with that L. Ron Hubbard touch giving this tale an enduring reading engagement from beginning to end." —Midwest Book Review
SAMPLE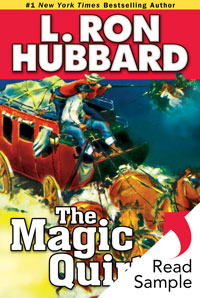 ABOUT THE AUTHOR
L. Ron Hubbard wrote of his childhood: "The weather of Montana is, of course, brutal. The country is immense and swallows up men rather easily, hence they have to live bigger than life to survive. There were still Indians around living in forlorn and isolated tepees. Notable among them was Old Tom, a full-fledged Blackfoot medicine man." Ron Hubbard and Old Tom became blood brothers, and the medicine man shared with him the kind of lore that makes stories like The Magic Quirt as compelling as they are.