American sailor Kurt Reid is a hothead and a hard case—a man who hits first and asks questions later. Scrappy and rough around the edges, it's no wonder that when the ship's captain turns up dead, it's Reid who takes the rap.
Falsely accused and under the gun, Reid jumps ship and vanishes into Shanghai—only to get caught in a web of intrigue, betrayal, and murder. In a world where nothing is what it seems and everything is for sale, he's soon out of his depth, drawn into a spy game in which the winner takes all … and the loser takes a knife to the back.
Will Reid live up to his reputation as the Spy Killer? He'll have to learn the rules fast because, with players like sexy Russian agent Varinka Savischna in the hunt, the game is about to turn as seductive as it is sinister.
"Exceptional … a genuinely entertaining listening experience." —Publishers Weekly
* A Publishers Weekly Listen Up Award Winner
SAMPLE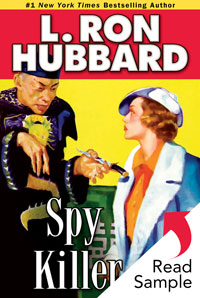 ABOUT THE AUTHOR
As a young man, L. Ron Hubbard visited pre-Communist China three times, where his closest friend headed up British intelligence. In a land where communists, nationalists, warlords, and foreign adventurers schemed for control, Mr. Hubbard gained a unique insight into the intelligence operations and spy-craft in the region—a knowledge that informs stories like Spy Killer.