A blind obsession. A driving ambition. A relentless, unrestrained, single-minded pursuit of a shiny metal. These are the symptoms of a condition known as gold fever, and American mining engineer Captain Humbert Reynolds has got it bad. Possible side effects include: temporary insanity, a propensity for violence, and death.
The search for gold has taken Reynolds from the ruins of the Yucatan to the mountains of Ecuador to the wilderness of northern Canada. Now, his search for a yellow brick bonanza has brought him halfway around the world, to the Gobi desert.
But the lure of the precious metal is about to lead Reynolds into a Golden Hell, as he plunges into an inferno—a mountain of horrors run by an unspeakably evil gang. And if he doesn't find a way out, a path to redemption, he may find that instead of snatching the ultimate prize he will have to pay the ultimate price.
Also includes the adventure, "Pearl Pirate," a story of betrayal and deceit in which an American captain loses his ship to a money-lender, and the only way to get it back is to outfight and outfox a ruthless pirate and bring home a fortune in black pearls.
SAMPLE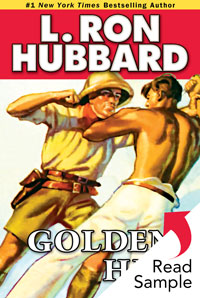 ABOUT THE AUTHOR
In 1927 L. Ron Hubbard served aboard a schooner sailing across the South Pacific bound for the coast of China. Making his way inland, he ventured deep into forbidden Buddhist lamaseries, shopped at the Thieves Market, made camp with Mongolian bandits, and witnessed the trade in stolen Chinese treasures. Drawing on those experiences as well as his time as a gold prospector, Mr. Hubbard infuses Golden Hell with extraordinary historical authenticity.