In the Arizona territory, every mountain hides a fortune—and every man fends for himself.
Tim Beckdolt, rangy and self-reliant, is as American as the frontier itself. But after spending eight treacherous months digging $175,000 in gold out of Desperation Peak—all he has left is desperation. Two sadistic strangers have taken his gold, and now they want to take his life. He's on the run—the target of a Devil's Manhunt.
In a time and a place where the only law is the law of survival, Beckdolt will have to live by his wits … or die by the bullet.
Also includes two additional Western tales: "Johnny, the Town Tamer," the story of a local swindler who meets his match; and "Stranger in Town," in which a drifter confronts a corrupt sheriff … and his own dark past.
"A thrilling novel of greed, violence, survival, and perseverance, Devil's Manhunt perfectly embodies the unbridled excitement of pulp fiction." —Midwest Book Review
SAMPLE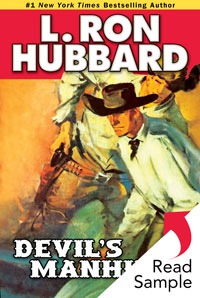 ABOUT THE AUTHOR
In 1932, L. Ron Hubbard led a mining crew on a six-month West Indies Mineralogical Expedition in Puerto Rico—the first complete survey of the island since it had become an American territory. It was an experience that informs this title with remarkable realism.