Tex Larimee is a grizzled Arizona sheriff who's leaving the deserts of Cactus County behind, blazing a trail east to mix it up with The Slickers in the canyons of Manhattan.
Tex's welcome to New York is a rude one. Robbed of his cash, gun and badge, he's locked in a room in back of a run-down bar. Breaking out of the bar, he goes looking for his best friend only to find him dead, his throat cut. And the cops accuse Tex of committing the murder.…
But none of that's going to keep a good Arizona lawman down. Discovering he's been the subject of an elaborate frame-up job, Tex has got a few tricks of his own up his sleeve—and in his recovered Colt .45—to make even the toughest of city birds sing a different tune.
Also includes the mysteries "Killer Ape," in which a man frees a mistreated orangutan, only to end up with a monkey on his back, as he's accused of aiding and abetting the ape in a case of murder; and "Murder Afloat," the story of a top narcotics cop in the US Secret Service who's pursuit of a million-dollar score could land him in some hot—and deadly—water.
SAMPLE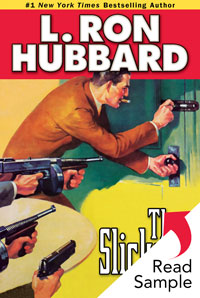 ABOUT THE AUTHOR
Much like Tex, L. Ron Hubbard was born and bred on the western frontier and made his way east to explore and experience life in New York City. But unlike the sheriff, Mr. Hubbard enjoyed his time in the city, where his writing career took off as he became a leading figure in its literary world. He came to know the streets and haunts of Manhattan as well as he knew the arroyos and canyons of the west, giving him the kind of insights he needed to write stories like The Slickers.