Long before Captain Jack Sparrow raised hell with the Pirates of the Caribbean, Tom Bristol sailed to hell and back Under the Black Ensign. That's where the real adventure begins.
Bristol's had plenty of bad luck in his life. Press-ganged into serving aboard a British vessel, he's felt the cruel captain's lash on his back. Then, freed from his servitude by pirates, his good fortune immediately takes a bad turn … as the pirates accuse him of murder—and leave him to die on a deserted island. Now all he has left are a few drops of water, a gun, and just enough bullets to put himself out of his misery.
But Bristol's luck is about to change. Finding himself in the unexpected company of a fiery woman and a crafty crew, he unsheathes his sword, raises a pirate flag of his own, and sets off to make love and war on the open seas.
"A riveting tale of sailing ships, piracy and the high seas." —Midwest Book Review
* A National Indie Excellence Award Winner
SAMPLE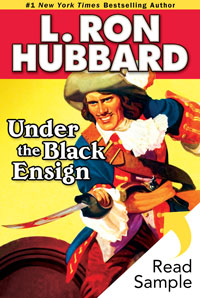 ABOUT THE AUTHOR
In his early twenties, L. Ron Hubbard led the two-and-a-half-month, five-thousand-mile Caribbean Motion Picture Expedition. He followed that with the West Indies Mineralogical Expedition near San Juan, Puerto Rico, in which he completed the island's first mineralogical survey as an American territory. It was during these two journeys that Mr. Hubbard became an expert on the Caribbean's colorful history—an expertise he drew on to write stories like Under the Black Ensign.