Extra! Extra! Read all about it! The Empire State Building has vanished into thin air! Gone, too, are Grant's Tomb and Grand Central Station, and all hell is breaking loose in New York City!
What's the story? One grizzled old newspaper reporter known simply as Pop—is on top of it … and better stay there because his livelihood is on the line. If Pop fails to get to the bottom of the vanishing landmarks, his job will disappear as well—and land in the hands of the newspaper publisher's son-in-law.
Any cub reporter could find someone breaking the laws of the city, but tracking down a suspect who's breaking the laws of physics is a different story altogether. But Pop's like a dog with a bone, and he won't let go until he gets at the truth … no matter how strange or astounding it is. In the end, he gets a lesson in larceny, proving that when you get down to business, size really does matter.
Also features the science fiction adventures "Battle of Wizards," in which an epic battle between science and magic unfolds with an entire planet hanging in the balance; and Hubbard's first published foray into science fiction and fantasy, "The Dangerous Dimension," the story of a mathematics professor who discovers an equation that enables him to teleport anywhere he can imagine … even if he doesn't want to go.
SAMPLE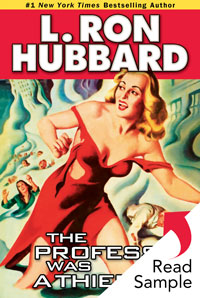 ABOUT THE AUTHOR
By the spring of 1938, L. Ron Hubbard's stature as a writer was well established. As author and critic Robert Silverberg puts it: he had become a "master of the art of narrative." Mr. Hubbard's editors urged him to apply his gift for succinct characterization, original plot, deft pacing, and imaginative action to a genre that was new, and essentially foreign, to him—science fiction and fantasy. The rest is Sci-Fi history.