He's handsome. He's charming. He's a total gentleman … and he's totally outgunned and outnumbered. He's Michael Patrick Obañon.
Obañon's lost his inheritance—a 100,000-acre New Mexico spread—and he could lose his life if he's not careful. A ruthless band of renegades has seized his land, and he's determined to get it back. Obañon's got one secret weapon: his fierce intelligence. He can't outshoot the outlaws, so he'll have to find a way to outwit them.…
Part Irish, part Mexican, Michael Patrick Obañon is as American as they come—crafty, confident, and cool under fire. It may be one man against the world, but before he's done the world will know how the West will be won.
"Hubbard uses the traditional Western form to tell a challenging and unpredictable story, where the hero outwits his attackers instead of merely having to outshoot them. Intelligent and suspenseful." —SomebodyDies.com
SAMPLE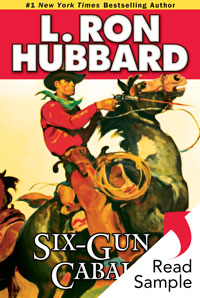 ABOUT THE AUTHOR
In the 1930s a radio program, Writers and Readers, hosted by Bob de Haven, delivered news of the hottest authors of the day—interviewing the writers behind the stories. Here's how he promoted an upcoming broadcast with L. Ron Hubbard: "He has placed in print a million and a half words. He is a quantity producer, well paid, and in constant demand. He has outlined some valuable information on his lead novelette … Six-Gun Caballero." It is an introduction to Mr. Hubbard that is as pertinent now as it was then.