Bat Conroy—cut him and he'd bleed ink, he's a born newspaperman. The greatest American journalists of the 20th century all made their names as war correspondents, but none of them would have beat out Bat Conroy to a good story.
Which makes it that much more mystifying—and aggravating—when an unknown writer, filing under the byline Perry Lane, scoops Bat on every story that comes along. Bat's always been the go-to reporter covering the Japanese invasion of China … until this Perry Lane person came along to steal his thunder and maybe even his job.
Now, the biggest story of the war is about to hit the fan, and Bat's going to get to the source first if it kills him. But the most shocking news of all is the true identity of the elusive Perry Lane.
SAMPLE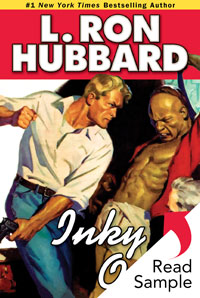 ABOUT THE AUTHOR
As a young man, L. Ron Hubbard visited Manchuria, where his closest friend headed up British intelligence in northern China. Mr. Hubbard gained a unique insight into the intelligence operations and spy-craft in the region as well as the hostile political climate between China and Japan—a knowledge that informs stories like Inky Odds.