Running off to join the French Foreign Legion used to be every boy's dream of action and adventure. But for Lieutenant Bill Reilly—half Irish, half American—the dream has turned into a nightmare. And it all begins with the gruesome delivery of a severed hand.
The dead, gnarled fingers hold a message from the Berber chief Abd el-Ulad. He challenges the courage of the Legion soldiers and says he holds an American woman captive—who, if Reilly doesn't come to her rescue, is next up for dismemberment. Reilly abandons his post guarding the trains and goes after her.
But it's all a trick. In his absence, the railroad falls victim to a terrorist attack. But who set the trap and engineered the sabotage? Reilly is caught in a triangle of treachery as the French, Spanish and native Berbers vie for control. His fate—as well as that of the American woman—rests on his ability to escape a spider's web of double- and triple-crosses and uncover the truth in a desert of deception.
* An International Book Awards Finalists
SAMPLE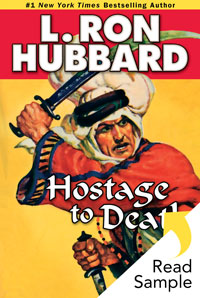 ABOUT THE AUTHOR
L. Ron Hubbard's knowledge of the Berber raiders as well as of the Arab culture was comprehensive. As a young man, he traveled extensively, following and studying numerous nomadic cultures and tribes. Combining those insights with his experience operating everything from machine guns to field telephones in the Montana National Guard and Marine Corps Reserves, Mr. Hubbard brought unique authenticity to his tales of the Foreign Legion. His stories were so exceptional, he was sought after by the premier writers' magazines of the time to write how-to articles—two of which appeared the same month that Hostage to Death was published.