Men weren't the only colorful figures of the Wild West. Women proved easily their equal. There were many such women in the Wild West including Cattle Kate, Molly Brennan, Cynthia Ann Parker, Baby Doe Taber, Madame Mustache, Elizabeth Johnson, and Pearl Hart. But we will focus on four legends who it would be surprising if you didn't recognize, Calamity Jane, Annie Oakley, Belle Starr, and Carrie Amelia Moore (better known as Carrie Nation).
It's traditional to say that it was Samuel Colt's 45 that tamed the West. But, a little known fact is that it wasn't a pistol, but rather a petticoat. It was the women who finally tamed the West. While this may seem at variance to what you have been led to believe, open up your mind and at least consider what you are about to read.
The earliest pioneers, the '49ers, seeking gold and a new life following the Civil War, were normally single men, or men who left their families back East as they were seeking their fortune. Of every nine men, there was only one woman who went to California. Colorado's 1860 census showed 32,654 men and only 1,577 women. Towns were built around the needs of men: saloons, general stores, more saloons, land offices, even more saloons, and a hotel or two for when they weren't working or at the saloons. When the boom towns sprang up, any women that showed up were usually single, arriving right behind the opening of the saloons. The women worked in the saloons dancing with the men. The women were of two types: the soiled doves who shilled drinks and enticed men into a small room, and those who simply danced with men for two bits (25 cents) a dance. As these women got married, and families started coming out West, the look of the West began to change. Schools and churches were built. Men started going home in the evening instead of the saloon. Featherbeds, curtains, and furniture started decorating the homes. Laws were passed to control public drunkenness and carrying guns in town. In other words, the West became tame.
It was during this transition period of the Old West that several women established names for themselves, names easily as famous as their male counterparts.
Calamity Jane
Martha Jane Canary was born in Missouri somewhere around 1844.
It has been said, "When legend gets more interesting than fact, go with the legend." And that's what happened with Martha Jane.
She was a nurse, dishwasher, bullwacker (driver of an ox wagon), dressed in men's clothing, and smoked cigars. She was also a muleskinner (professional mule driver) in General Crook's army march into Montana—until she went bathing in the river and was found to be a woman.
Her nickname came when it had been noticed that as a nurse she was always helping injured people. Someone said, "You're always there when there's a calamity, Jane." And with that, the legend of Calamity Jane was born.
She became center of the action and known for her trademark buckskins, which she wore when heading for a bar for free drinks. In reality, she normally wore a dress.
She had multiple husbands. But one man held her heart, Wild Bill Hickok. She had only been with him for a short while when he was killed in Deadwood by Jack McCall.
She lived out her years in Deadwood and had someone ghostwrite her autobiography—which was probably mostly fiction and wild stories. One story was definitely true, she was an alcoholic which led to her being fired finally from the midway shows.
On August 1, 1903, she died of pneumonia and her last words apparently were "Bury me next to Bill." Which she was.
She is bigger than life and remains one of the most popular women of the Old West.
Annie Oakley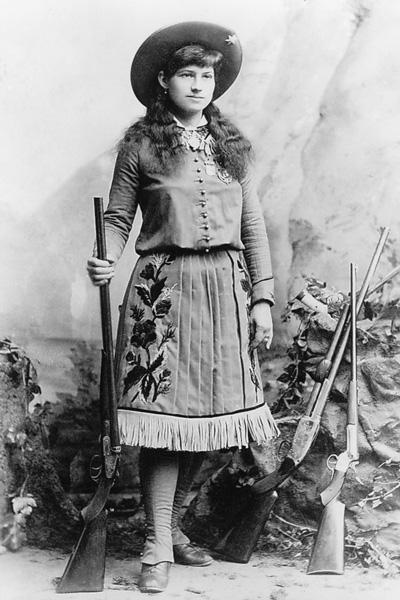 Born Phoebe Ann Mosey, she was the fifth of seven children.
Phoebe was born into a poor family in Ohio. At the age of five, her father died and she was sent to an orphanage, then to a family that beat her. At eight she went to live with her mother.
It was from her porch that she shot a squirrel through the head which frightened her Quaker mother. She didn't touch a gun for several months. But soon, she was keeping meat on her family table and was providing game for the general store. The store manager shipped surplus meat to a hotel. When the hotel manager learned it was a young girl providing the meat, he set up a match between her and a traveling exhibition sharpshooter named Frank Butler. The 15-year-old Phoebe Ann, wearing a sunbonnet and pink gingham dress, outshot the 25-year-old Frank Butler. Frank was so impressed that within a year he was able to convince her to marry him.
Frank and Billy Graham were partners in a sharpshooting exhibition until one day when Frank took ill and she took over. She was an instant success. But her name, "Phoebe Ann Moses Butler" didn't easily roll off the tongue. So by combining her name with the name of the town in which she and Frank met, Oakley, Ohio, Annie Oakley was born.
On April 17, 1885, they connected up with Buffalo Bill Wild West Show. The crowds fell in love with her and within a short time, she became the star of the show. She traveled with Buffalo Bill for 17 years. Buffalo Bill called her "Little Missy." Sitting Bull called her "Little Sure Shot." While her husband, Frank Butler, was known as Mr. Annie Oakley. She never thought of herself as a star but wanted the amenities of home in the tents she traveled in.
At the age of 41, she was in a train crash and was seriously injured. After multiple surgeries and recuperation, she stopped traveling and instead performed on the stage, training others how to shoot. Then after being crippled in a car accident, she retired. In 1926, at the age of 66, she died. Her husband, devastated at his loss, died three weeks later.
It has been estimated that the 5 foot, 100 pounds Annie Oakley shot close to 1,200,000 shotgun shells during her 30 years of performance.
Belle Starr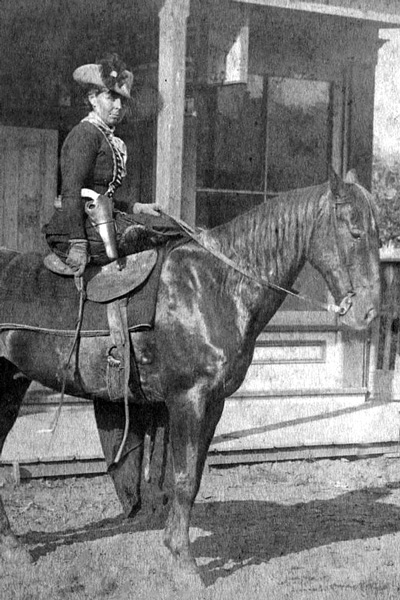 Myra Maybelle Shirley was born on February 5, 1848, in Carthage, Missouri.
From a wealthy family, she was educated and taught Greek, Latin, and Hebrew.
So how did she become the female Jesse James, Belle Starr?
The Civil War broke out in her early teens and she supported the Confederacy. At 16  she moved to Texas where she met Jim Reed, also from Missouri, and they got married.
Jim was more interested in horse racing and gambling rather than farming and turned to rustling and killing. In 1874, Jim Reed was killed.
Myra, now known as Belle, went into the mountains and met and married a Cherokee Indian named Sam Starr. Youngers Bend was their home, where it was said Cole Younger, Frank and Jesse James and other outlaws visited.
In 1882, Sam and Belle were arrested for theft of horses. They served 9 months of a one year sentence when they were released and returned to their ranch. Sam went back to an outlaw life and was killed at a Christmas dance. Belle, no longer with an Indian connection was threatened with losing her ranch and being kicked off the land, so she married her third husband, another Indian who was 15 years younger, Jim July.
While she associated with famous outlaws and was arrested several times, it's more than likely that she committed far fewer criminal acts than her legend would suggest, with the men in her life being the main source of criminal acts.
On Saturday, February 3, 1889, two days before her 41st birthday, Belle was shot out of her saddle by two blasts from a shotgun in a murder that remains unsolved to this day.
Carrie Amelia Moore
Carrie was born on November 25, 1846, in Kentucky.
She was a selfish, sickly child. At the age of 21, she married Dr. Charles Gloyd. Her marriage didn't start out well because the groom arrived drunk. After their wedding, he spent much of his time at the Masonic Lodge drinking. Their marriage lasted only 1 1/2 years. She had one child and an attitude that affected a large portion of this nation!
A short while later, she met the answer to her prayers, David Nation. He was a lawyer, minister, and newspaperman, and was 19 years older than her. He didn't drink or smoke. Nor was he successful at any of his occupations. In 1890, they moved to Medicine Lodge, Kansas where he was a minister.
Carrie decided things that weren't good for men which included strong drink and sex, and since her first husband spent a lot of time drinking at the Masonic Lodge, the Masonic Order was added to her list. Oh yes, she also hated tobacco.
Carrie joined the Women's Christian Temperance Union. She talked temperance but really promoted prohibition.
She was arrested for defacing a keg of medicinal whiskey in a store in Kansas. When being arrested, she reportedly shouted back, "Defacing? I'm not defacing, I'm destroying."
In June 1889, she attacked her first saloon in Kiowa, Kansas using a broken pool cue. By the time she arrived in Wichita, she had learned that an ax did a much better job. It should be noted that prohibition provided power to women at a time when they had yet to be emancipated—meaning women couldn't vote.
Then one day in Topeka, a man came out and handed her a bunch of small pewter hatchets and told her to sell them to pay her fines and expenses for the month. And the crowd quickly snatched them up. And the "hatchet" became the symbol for her movement.
In 1901, after 29 years of marriage, her husband David filed for divorce on the grounds that he married her to have someone to run his house and she had deserted him.
Getting rid of her second husband, Carrie was free to travel the nation lecturing and destroying. When lecturing in New York, John L. Sullivan, owner of a beer joint, said that if she entered his place, he would push her down the sewer. She took up his challenge and chased him into the men's room where she refused to follow. Another bar in New York had a sign that read, "All nations welcome except Carrie."
In 1919, eight years after her death, prohibition became the law across the nation.
Strength of will and determination was a characteristic each of the above women shared. While the typical American western writer rarely allowed for a strong-willed female protagonist, there was that rare author who did. L. Ron Hubbard was one such 20th century writer who provided strong women as central figures to his stories in all the genres he wrote in, be they science fiction, fantasy, adventure, mystery, and his westerns—which included Vicky Stewart in "Ride 'Em, Cowboy," Bette Shannon, in "The Toughest Ranger" and Ellen Dodge in "Branded Outlaw."
If you are interested in tales of the old west, download "The Ghost Town Gun-Ghost" for free. It is a humorous Western where two unlikely allies take justice into their own hands. This is one of 41 western tales written by L. Ron Hubbard.