The Story Behind Fahrenheit 451
This is the next article in our "What Was the Author Thinking?" series and specifically the story behind Ray Bradbury's Fahrenheit 451.
As with the other authors covered in this series, Stephen King and Philip K. Dick, Ray Bradbury also had a unique link to L. Ron Hubbard and Ron's psychological thriller, Fear. But more about that later.
Just as the events of World War II inspired Philip K. Dick to write Do Androids Dream of Electric Sheep, that grim event in history also had an impact on Ray Bradbury and his novel.
The Backstory
Fahrenheit 451 presents a future dystopian American society where books are outlawed and "firemen" are charged with burning any that are found. It is named for the fact that at 451° paper catches fire and burns.
Bradbury grew up in Waukegan, Illinois, and hung around the fire station as a kid along with his dad. Later he heard about book burnings occurring in Germany, Russia and China, and the story of the great libraries of Alexandria being destroyed by flames some 2,000 years ago. Bradbury frequented libraries starting at the age of eight. As he never attended college, he considered libraries to be his "university." In his own words: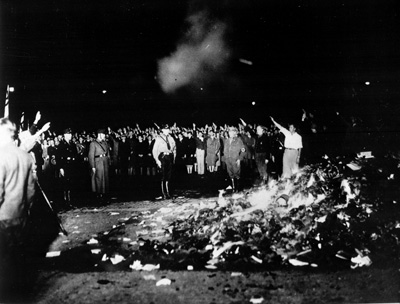 "When I heard about Hitler burning the books in the streets of Berlin, it bothered me terribly. I was 15 when that happened, I was thoroughly in love with libraries and he [Hitler] was burning me when he did that…. The reason why I wrote Fahrenheit is that I am a library person and I am in danger of someday writing something that people might not like and they might burn. So it was only natural that I sat down and wrote Fahrenheit 451."
When Bradbury was 30, he was walking down the street with a friend when a police car pulled up. The policemen got out of the car and one of them asked, "What are you doing?" to which Bradbury replied, "Putting one foot in front of the other." That turned out to be the wrong thing to say as the policeman didn't appreciate the joke. As it were, that experience resulted in the story "The Pedestrian." Bradbury would later turn the main character of "The Pedestrian" into Guy Montag, the protagonist of Fahrenheit.
The original title for the novel wasn't Fahrenheit 451 but rather The Fireman. And it was only fitting that Bradbury wrote it in a library─the basement of UCLA's Powell Library─on a typewriter that he rented for ten cents per half hour. He completed the story in nine days.
In a 1956 interview, Bradbury reminisced about the writing of the novel:
"I wrote this book at a time when I was worried about the way things were going in this country four years ago [1952]. Too many people were afraid of their shadows; there was a threat of book burning. Many of the books were being taken off the shelves at that time. And of course, things have changed a lot in four years. Things are going back in a very healthy direction. But at the time I wanted to do some sort of story where I could comment on what would happen to a country if we let ourselves go too far in this direction, where all thinking stops, and the dragon swallows his tail, and we sort of vanish into a limbo and we destroy ourselves by this sort of action."
And in a 2007 interview at the San Diego Comic Con, he talks about where he was and the special significance it held for him when he wrote Fahrenheit 451.
Five Factoids About Fahrenheit 451
It is the only pure science fiction novel Ray Bradbury ever wrote.
From science fiction to science fact: In the novel, Bradbury described the wall-to-wall interactive TV and the Walkman (precursor to the iPod), the latter in the form of a "seashell radio." Now, both are science fact.
Bradbury only found out after the fact that "Montag" is also the name of a paper company that puts out all kinds of stationery and "Faber" (professor and philosopher in the novel) is also the name of a pencil manufacturer.
In a 1974 interview with James Day, Bradbury stated, "My character, Montag, is myself, discovering me."
Bradbury received the 2,193rd star on the Hollywood Walk of Fame on April 1, 2002 in recognition of his anti-censorship classic.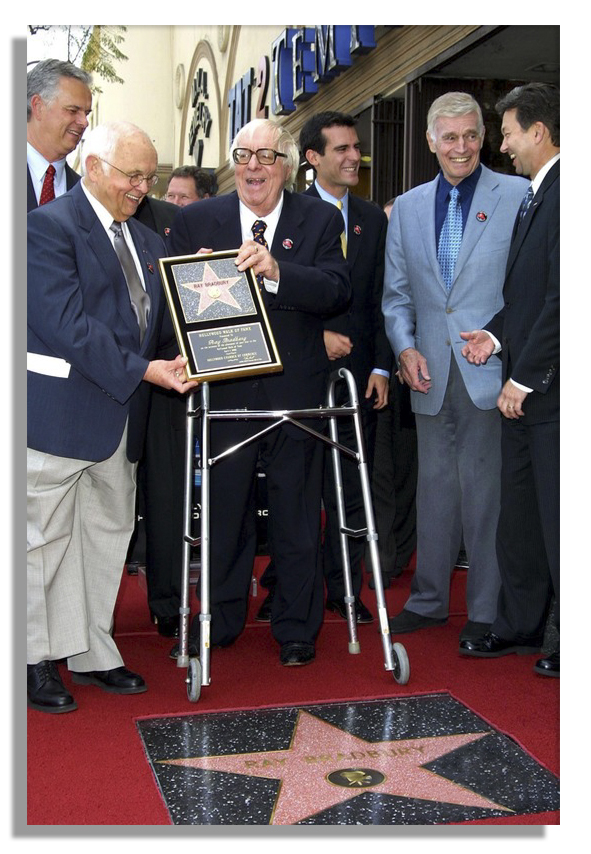 Mayor Jim Hahn was on hand for the ceremony to kick off a month-long reading campaign called "One Book, One City L.A." Los Angeles city residents were encouraged to read Bradbury's "Fahrenheit 451," the anti-censorship classic about a futuristic firefighter whose job is to burn books.
Photo (l to r) Honorary Mayor of Hollywood Johnny Grant, Ray Bradbury, Council Member Eric Garcetti, Los Angeles Mayor Jim Hahn, President Hollywood Chamber Leron Gubler. Photo credit: Nate D. Sanders.
The Link to Fear
And what is the link to L. Ron Hubbard's Fear?
Bradbury read Fear as a young man as he described it in a letter to L. Ron Hubbard on May 28, 1981:
"When I was 20 years old and your Fear was published I was so impressed by it that I wrote a radio script based on it, and got some friends to do some disc-recordings of it for my private listening. That's a long time ago and the discs long since lost, but the memory lingers. That was a lovely piece of writing you did on that. With admiration, and additional thanks. Yours, Ray Bradbury."
So, in addition to being a book lover, a humanitarian, a writer and a poet, Ray Bradbury also had a hand in radio theatre and the original talking books. A shame the recordings no longer exist, however, Bradbury's thirst for life, love and adventure will always linger through his immortal works of speculative fiction.
And, with the writing of Fahrenheit 451, may we never witness book burning again.
Discover for yourself why Fear, the pioneer psychological thriller with a creepy twist at the end, so impressed Ray Bradbury, Stephen King and Philip K. Dick.
Listen to  sample of the audiobook performed by Roddy MacDowall:
If you are new to L. Ron Hubbard's fiction stories, download the detective thriller The Carnival of Death as our gift to you.