American pilot Mike Malloy has learned his lesson: when you join the French Foreign Legion, it's best not to wipe the floor with two French officers … no matter how richly they deserve it. And it appears he has all the time in the world to think about it. He's been sentenced to five years in a Moroccan penal battalion—which is French for death sentence.
But Malloy is about to get a reprieve … if he's willing to fly into the heart of the Sahara and into the teeth of a Berber rebellion.
It's an offer Malloy can't refuse. All he has to do is fly two passengers into the desert and return with a book that disappeared 800 years ago. But as he's a man who doesn't go by the book, this expedition could turn out to have unexpected benefits. One of his passengers is a young American woman whose eyes are as beautiful and blue as the wild blue yonder.
SAMPLE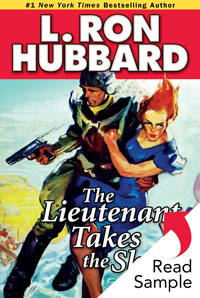 ABOUT THE AUTHOR
L. Ron Hubbard once said that writers too often "forget a great deal of the languorous quality which made The Arabian Nights so pleasing. Jewels, beautiful women, towering cities filled with mysterious shadows, sultans equally handy with robes of honor and the beheading sword … these things still exist, undimmed, losing no luster to the permeating Occidental flavor which reaches even the far corners of the earth today." Mr. Hubbard brings this unique insight to his stories of North Africa and the Legionnaires, investing them with an authenticity of time, place, and character that kept his readers asking for more.