Fortune hunter Billy Newman is not a man of great strength or physical courage—he gets by on his wit, wiles, and good looks. And he's had quite a good run—striking gold in the Philippines and buying his very own island in the South Seas.
But there's trouble in paradise, and Billy's in the thick of it. The island's crops are failing. The island's people are dying. And the island's owner—Billy—is taking the heat. Why? Because he's angered the 75-foot-tall big-boss god of the island.
75-foot tall? To Billy, it's a laughable superstition—until he finds out just how serious the islanders are. They're out to sacrifice a beautiful young woman to the supposed god. The only way Billy can save her is to humor the locals and pretend to take the spirit on. But the joke may be on Billy … as he has to screw up some very real courage to face the very real Danger in the Dark.
Includes the fantasy adventures "The Room," in which Uncle Toby goes to his room, never to return, leaving it to his nephew to explore the magic and mystery of the place; and "He Didn't Like Cats," the story of one man's feline phobia and the hauntingly high price he pays for it.
SAMPLE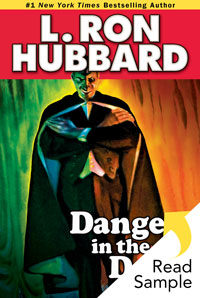 ABOUT THE AUTHOR
L. Ron Hubbard lived on Guam in 1927, while his father was assigned to the US naval station there. In his journals he describes a local superstition: "the great cheese ghost" named Tadamona. He wrote that the devil had the shape of a man, attained the height of coconut trees, and was the cause behind all sickness and disease. To dispel the superstition, Ron descended into Tadamona's supposed abode, a great underground stream—an encounter reflected in Danger in the Dark.