Dead Men Kill trade paperback
$9.95
---
AVAILABLE FORMATS
Detective Terry Lane is a standout homicide cop who thought he'd seen it all … until now.
Lane has seen the darkest side of human behavior but he's never seen a murder spree like this, targeting the wealthy, the powerful and the privileged. For the evidence is clear: the killers have not emerged from the seamy underside of the city … but from six feet under it. They are the walking dead, spreading terror and showing no mercy.
Following a trail of drugs, blackmail, and the twisted clues of a seductive nightclub singer, Detective Lane will have to think outside the box … or he could end up inside one, buried alive.
"A rollicking horror yarn [that] taps into the current craze for zombies.… heart-pounding." —Publishers Weekly
* An International Book Awards Winner
Quantity
Discount
Discounted price
1 - 9
-

$

9.95
10 +
25%

$

7.46
Buy 10 or more Stories from the Golden Age books or audiobooks and get 25% off
[youtube https://www.youtube.com/watch?v=YaOUvh2xJaU?rel=0&w=560&h=315]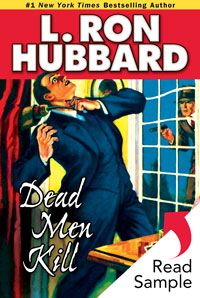 In 1934, while living in New York, the heart of the publishing industry, L. Ron Hubbard struck up a friendship with the city's medical examiner—a relationship that started his education in undetectable crime and provided him with authoritative clinical background for his detective stories.
| | |
| --- | --- |
| Weight | 0.7 lbs |
| ISBN | 9781592122639 |
| Format | Trade Paperback |
| Series | Stories from the Golden Age |
| Genre | Mystery & Suspense |
| Length | 144 pages |
| Other Attributes | Short Stories |
Dead Men Kill Glossary
Stories from the Golden Age reflect the words and expressions used in the 1930s and 1940s, adding unique flavor and authenticity to the tales. While a character's speech may often reflect regional origins, it also can convey attitudes common in the day. So that readers can better grasp such cultural and historical terms, uncommon words or expressions of the era, the following glossary has been provided.
ballyhoo man: a person who gives an attention-getting demonstration or talk to arouse interest and attract patrons to an entertainment event.
barker: someone who stands in front of a show at a carnival and gives a loud colorful sales talk to potential customers.
bead on, drawing a: taking careful aim at. This term alludes to the bead, a small metal knob on a firearm used as a front sight.
blackjack: a short, leather-covered club, consisting of a heavy head on a flexible handle, used as a weapon.
bluecoats: policemen.
bullpen: a holding cell where prisoners are confined together temporarily; in the 1800s, jails and holding cells were nicknamed bullpens, in respect of many police officers' bullish features—strength and short temper.
clubbed gun: a rifle, shotgun, etc., held by the barrel so as to use the stock as a club.
deuce, what the: what the devil; expressing surprise.
dick: a detective.
dint of, by: by means of.
flatfoot: a police officer; cop.
G-men: government men; agents of the Federal Bureau of Investigation.
gourde: a paper money and monetary unit of Haiti.
grifter: crooked game operator; a person who operates a sideshow at a circus, fair, etc., especially a gambling attraction.
ha'nt: a ghost.
hop: drugs, especially opium.
midway: an avenue or area at a carnival where the concessions for exhibitions of curiosities, games of chance, scenes from foreign life, merry-go-rounds, and other rides and amusements are located.
newshawk: a newspaper reporter, especially one who is energetic and aggressive.
papaloi: (Haitian dialect) voodoo priest.
property men: propmen; members of the crew in charge of stage properties.
proverbial straw: pertaining to the proverb (short popular saying): "A drowning man snatches at straws," meaning a desperate person will try anything to save himself, no matter how unlikely.
rod: another name for a handgun.
rube: one of the local townspeople who make up a sideshow audience or become customers.
scareheads: headlines in exceptionally large type.
Scheherazade: the female narrator of The Arabian Nights, who during one thousand and one adventurous nights saved her life by entertaining her husband, the king, with stories.
spot: 1. to place or position on a particular place. 2. single out; pick out; identify.
swallowtails: the back part of a man's fitted coat that descends in a pair of tapering skirts.
wee sma's: wee small hours; the early hours of the morning, especially those just after midnight.
zombie: a reanimated human body devoid of consciousness; in voodoo, it is a dead person who has been revived by a voodoo priest, and remains under the control of the priest, since they have no will of their own.