Winchester Remington Smith is a crack shot. Problem is, surrounded by roller coasters and merry-go-rounds, his talent is going to waste, knocking down ducks in a carnival shooting gallery. Win wants some real action and so he's going to war—running off to join the US Marines to fight a guerilla insurgency south of the border.
In the jungles of Central America, Win takes a different kind of roller coaster ride. Quick and quiet, he's now a runner. It's a vital role, but he feels like a messenger boy, unable to put his rifle to good use. Even when he saves the life of First Sergeant Fifty-Fifty O'Brien—a Marine so gung-ho he has about a fifty-fifty chance of survival—Win ends up facing a disciplinary hearing for disobeying orders.
Can the young sharpshooter redeem himself? Win's about to get his chance, an opportunity to deliver a message that the Marines will never forget.
Also includes the military adventures "The Adventure of X," in which a French Foreign Legionnaire's intelligence mission leads him into an enemy ambush, and he has to warn his fellow Legionnaires before they walk into a massacre; and "Red Sand," the story of a disgraced Chicago cop who joins the Legionnaires and finds his investigative skills invaluable in the desert.
SAMPLE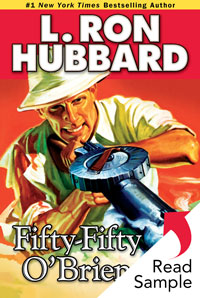 ABOUT THE AUTHOR
L. Ron Hubbard knew exactly what it meant to be a Marine. As he wrote in 1935: "Most of the fiction written about [Marines] is of an intensely dramatic type, all do-or-die and Semper Fidelis." But the reality, he said, was far different. "I've known the Corps from Quantico to Peiping, from the South Pacific to the West Indies, and I've never seen any flag-waving. The most refreshing part of the USMC is that they get their orders and do the job and that's that." It's that kind of unique and pointed insight that he brings to stories like Fifty-Fifty O'Brien.