Detective Terry Lane is a standout homicide cop who thought he'd seen it all … until now.
Lane has seen the darkest side of human behavior but he's never seen a murder spree like this, targeting the wealthy, the powerful, and the privileged. For the evidence is clear: the killers have not emerged from the seamy underside of the city … but from six feet under it. They are the walking dead, spreading terror and showing no mercy.
Following a trail of drugs, blackmail, and the twisted clues of a seductive nightclub singer, Detective Lane will have to think outside the box … or he could end up inside one, buried alive.
"A rollicking horror yarn [that] taps into the current craze for zombies.… heart-pounding." —Publishers Weekly
* An International Book Awards Winner
SAMPLE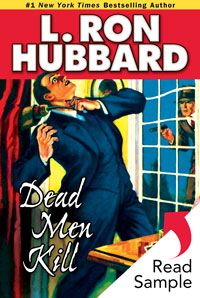 ABOUT THE AUTHOR
In 1934, while living in New York, the heart of the publishing industry, L. Ron Hubbard struck up a friendship with the city's medical examiner—a relationship that started his education in undetectable crime and provided him with authoritative clinical background for his detective stories.