Noir Detective: The Golden Threads of Mystery Books
Famous detectives, from the noir detective to the classic mystery, share a common thread: the ability to discern a depth of reality—to see what is there to see—that ordinary mortals don't. This singular individual sees and knows what he sees. Therein lies the magic of the great detective of almost mythic dimension and the golden threads they weave.
Iconic authors and their indelible characters set the foundation of the mystery genre, one of the most widely read and loved forms of literature. Consider Arthur Conan Doyle and Agatha Christie, icons of the mystery genre, and L. Ron Hubbard, a master of many genres, whose golden threads of the noir detective will not be forgotten.
A World Without Sherlock?
Imagine a world without Sherlock Holmes and his nemesis, Professor Moriarty.
Arthur Conan Doyle, the creator of the immortal icon of all detectives, Sherlock Holmes, is, in my opinion, the father of the detective genre as we know it today.
Arthur Conan Doyle's Life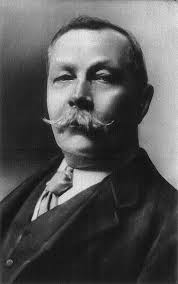 He was born in 1859, in Edinburgh, Scotland, and born in poverty. He had to live separate from his family because of his alcoholic father and knew many hardships as a young man. Because of his brilliance, his education was financed by relatives and he finally graduated as a medical doctor.
He was tough. He was a boxer, fought in the Boer War, was a ship surgeon, and after years in failed practices finally had his first real novel published and began writing full time.
Sherlock Holmes was modeled after Joseph Bell, a professor at his medical school. In a letter to him, Doyle said:
"It is most certainly to you that I owe Sherlock Holmes … round the centre of deduction and inference and observation which I have heard you inculcate, I have tried to build up a man."
The Creation of the Mysterious Golden Thread
And indeed he did build up a man in Sherlock Holmes, a character like none other before him, a man with near mystic powers of observation and perception. A golden thread spun from the spinning wheel of a word weaver came the basic fabric of the modern detective story.
Since his creation in December 1887, Sherlock Holmes has been played by over 75 actors, my favorite depicting the turn of the century Sherlock, Jeremy Brett, and the most current, Benedict Cumberbatch.
As an example of Sherlock's uncanny ability to observe and instantly evaluate, I thought you would enjoy this too:
Sherlock Holmes Quotes
Sherlock Holmes has become so real to us that sometimes we forget that Doyle wrote the words and Sherlock himself is not speaking. Here are a few of my favorite iconic quotes:
"It is an old maxim of mine that when you have excluded the impossible, whatever remains, however improbable, must be the truth." —The Adventure of the Beryl Coronet

"I can never bring you to realize the importance of sleeves, the suggestiveness of thumb-nails, or the great issues that may hang from a boot-lace." —A Case of Identity
And of course, there is the statement that only Sherlock would make,
"Come, Watson, the game is afoot!"
The same extraordinary powers to see what is there to see and thereby reach inductive conclusions is a pattern followed in every detective created since. Thus the crime is solved not by blunders of the criminal, but by the genius of the detective.
Agatha Christie and the Golden Pattern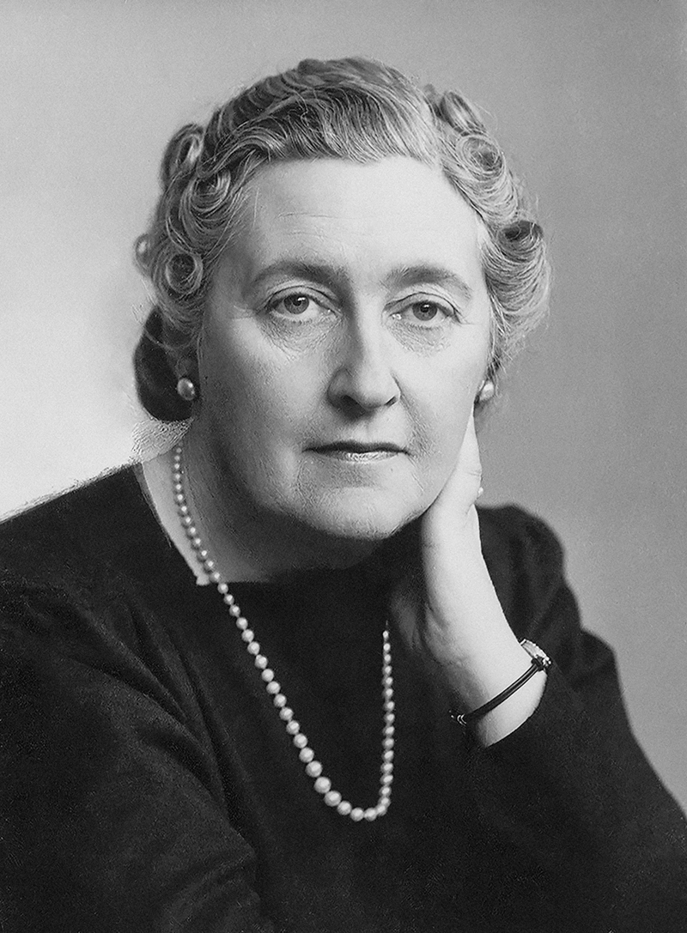 People revere extraordinary people with extraordinary powers of observation and perception as being a kind of superhuman being. They love to read about them, just knowing there must be people like that. The thread of this kind of man, or woman, was followed by many authors, but the most prolific mystery author was Agatha Christie.
Queen of Crime
She was known as the Queen of Crime, wrote 66 novels and 14 short story collections, selling over two billion copies worldwide, and translated into 100 languages. Her detective books were driven by two primary characters: the unique and elegant Belgian Hercule Poirot and her ever so British Miss Marple.
They followed the golden thread and all are awed at the end of the story as Poirot or Miss Marple explained just how simple it really was.
The Golden Thread Across the Decades
Her works have been adapted for both the big screen and television since 1928. Some of the most enduring and memorable include TV programs for Spider's Web, Poirot, and Miss Marple.
Most recently her Murder on the Orient Express was directed by Kenneth Branagh in 2017, a remake of the original film directed by Sidney Lumet in 1974.
Agatha Christie Quotes
Agatha Christie was able to bring her characters to life in a way that it was easy to forget they were fictional at all. Here are three of her iconic quotes:
"Very few of us are what we seem." —The Man in the Mist

"The impossible could not have happened, therefore the impossible must be possible in spite of appearances." —Murder on the Orient Express

"The simplest explanation is always the most likely." —The Mysterious Affair at Styles
The American Detective Scene
Without these authors and their innovative styles, and many others since, one growing out of the other, our popular literary scene would be dull indeed.
As detective fiction evolved it moved from the London scene of the elegant gay nineties, the swinging twenties, and on to the American scene.
Film Noir
As a word on noir detectives, consider that the phrase film noir was first coined in 1946 when a group of French critics used it to describe the emerging movement of mainly black and white Hollywood films. They were dark, pessimistic themes with signature motifs such as alienated antiheroes, rain-slicked streets, dark shadows, and seductive femme fatales. Many of which were inspired from the pages of America's murder mystery authors including Dashiell Hammett with The Maltese Falcon and Raymond Chandler's The Big Sleep.
American tough guys and hard-boiled detectives, while not as elegant nor as subtle as Sherlock, Poirot, or Marple, also observed facts, like gathering up loose threads nobody else noticed and created a noose for the criminal. The tough-talking American detective still followed the pattern.
Humphrey Bogart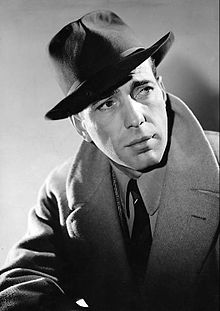 Nobody could play a film noir private detective as well as Bogie. Guns, dangerous women, back alley crooks, illicit affairs, and hand-rolled cigarettes. He handled it all with aplomb and a bored expression, even when he lit a cigarette for Lauren Bacall, his real lover and co-actor. He was another of the golden thread geniuses. The Maltese Falcon, The Big Sleep, and Laura are movies that live forever in film noir land.
Mystery Authors and their Famous Detectives
Mickey Spillane, Raymond Chandler, Erle Stanley Gardner, were of the noir crowd, then came the bestsellers like Graham Greene, John le Carré, Elmore Leonard, Robert Ludlum, James Patterson, Sue Grafton, Patricia Cornwell, and Lee Child with his gripping, white knuckle Jack Reacher novels, and a plethora of others.
They all write a variation on the same theme—the detective goes through enough danger and crisis, twists and turns, to keep the reader turning pages, and in the end solves who done it, exposing the real bad guy simply based on the irrefutable facts, which they lay out so convincingly.
And what makes it remarkable is that these threads were there to be seen all along—they had to be knit together to make a clear picture which our detective alone could see. It is usually a surprise to the reader, and that is why you read it.
L. Ron Hubbard was one of the Noir Detective Stars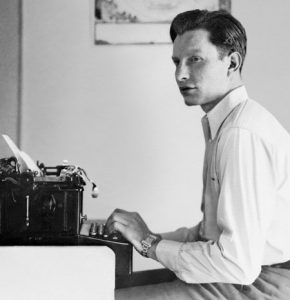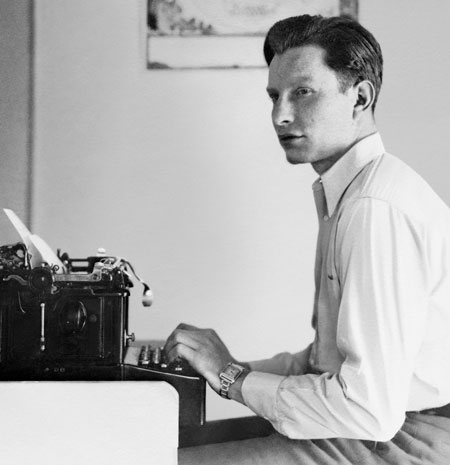 During the thirties, L. Ron Hubbard's Underwood, Remington, and the Royal typewriters never ceased their clatter, churning out short stories and novels of every genre, including incredibly vivid and riveting detective stories that dived right into the grinning maw of the crime, taking no prisoners.
His lean, yet colorful, and even humorous style, grabbed the reader and would not let go, avoiding superfluous layers of foreshadowing or red herrings.
His detectives, like Sherlock, used the "art of observation" to solve the crime.
L. Ron Hubbard Quotes
Great insight strikes a chord in reality, even though uttered in fiction. Here are a few of my favorites:
"But he slipped up. They all do." —The Carnival of Death

"Admittedly Terry Lane was afraid—but then, it is said that only brave men can know fear." —Dead Men Kill

"How neatly she tied these doubts into a string of apparent truth." —The Chee-Chalker
Research into the Real Thing
No dilettante, Mr. Hubbard was never one to just start out writing a story without having first-hand knowledge of the subject—an intrepid adventurer with an inquiring mind.
He made friends with the coroner of New York and spent many hours talking to him about his "patients" and the types of murders and crimes he would encounter. He even joined the police in investigating crime and rode with officers making arrests and putting himself right in the middle of law enforcement. He made friends with many whose records were less than clean to gather material.
In other words, he did not write about a subject without having made contact in the most realistic manner possible. It was axiomatic with him that he should have experienced it to make the subject his.
Radio Theater: Bringing the Stories to Life
In the long tradition of radio theater, I performed in a number of the L. Ron Hubbard pulp fiction theater productions, including my favorite of the noir detective stories, set in the mid-thirties, They Killed Him Dead.
I was Careful Cassidy, a cigar-chomping, gruff old Irish detective who was baffled by the facts that simply made no sense, but he pulled all of the threads together to an unexpected and very funny ending.
These plays put the audience right into the ambiance of the period with all of "dese and does" for these and those, and lingo of the period, such as "packing heat" for carrying a gun; "meat wagon" for ambulance; "can opener" for safecracker; and the "big sleep" for death. This short story can be found in Killer's Law.
These pulp fiction plays keep that era alive as an epic period of dynamic writing, movie-making, and acting by iconic actors.
In this same tradition of theater and old-time radio, Mr. Hubbard's mystery detective stories have been brought to life a series of full-production audiobooks, a mix between movies and radio theater—like experiencing a movie of the mind.
Download a free copy of The Carnival of Death. In this detective fiction, undercover agent Bob Clark sets out to solve a bizarre series of decapitations, putting his own head at risk.
While the series was not written specifically for young adults, they are great mystery books for teens—high-interest and visceral, without inappropriate language. They have been used in school reading programs and book clubs (there is a free teacher-created resource for The Carnival of Death available).
Legacy Across the Literary Landscape
Few have any idea of the wealth and breadth of subjects Mr. Hubbard wrote about during his long, productive writing life. He survived the depression by writing as many as 70,000 -100,000 words a month at a penny a word, the going rate for pulp fiction writers.
His manuscript factory was begun in 1935, an entirely appropriate name for the amount of paper flying out of his door containing incredibly fascinating stories ranging from wild west sagas to mystery, and adventure to fantasy and science fiction. There was no TV or FM radio, and during the depression, people clamored for escape which they found in pulp magazines such as Argosy, Thrilling Detective, and Thrilling Adventures.
L. Ron Hubbard was a master storyteller. He was elected as president of the New York Chapter of the American Fiction Guild and mingled with the top writers of the day.
He is credited for reshaping whole genres with his enormous but high-quality work across the boards. To cap it, he created an unequaled event in publishing history by producing eleven consecutive New York Times bestsellers in the eighties.
"One of the most prolific and influential writers of the twentieth century." —Stephen V. Whaley, Ph.D., critic and educator
In this writer's opinion, he is the most prolific and profound writer the world has ever known.
L. Ron Hubbard's legacy as a writer is one that will last forever.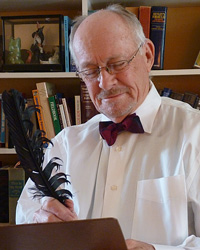 LD Sledge served in the US Army and was discharged honorably as a Captain in 1963. For forty-three years he was a courtroom lawyer helping real people, trying hundreds of judge and jury trials in his own law firm. He has over 45 years of experience writing across multi-genre topics. His word count in print in novels, fiction and nonfiction, medical, finance, legal, blogs, newsletters, columns, editorials, short stories, and poems exceed two million words. His best seller novel Dawn's Revenge, a New Orleans thriller, is being considered for a screenplay. LD is also an artist and musician.