When the Going Gets Tough, Americans Get Going
The Hard-Boiled Detective Pulp Renaissance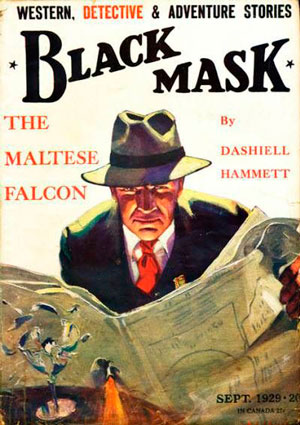 It was a time of tough guys and dangerous dames. Fedoras, boot-leggers, jazz clubs and organized crime were the keywords to a way of life that was at once titillating and repugnant. The era was as hard-boiled as the tough, unsentimental and gritty prose that graced popular magazines like Black Mask.
Hard-Boiled Gangster Movies of the '30s
With rampant unemployment and the lingering after-effects of the First World War, Depression-era audiences were eager to be entertained. The motion picture industry responded to that demand with dramatic sound pictures that reflected our recent turbulent past with morality plays that struck a chord with audiences in search of escapism. Edward G. Robinson was Little Caesar (1931).
And a young actor named Humphrey Bogart was featured in a string of successful gangster films: The Petrified Forest (1936), Dead End (1937), Angels with Dirty Faces (1938) and The Roaring Twenties (1939) all captured the angst, apathy and seamy underbelly of America's mean streets. Robinson, Bogart, James Cagney and George Raft embodied the tough, no-nonsense gangster lacking in morals and intent on crime.
Angels with Dirty Faces starring James Cagney and Humphrey Bogart
The Birth of Hard-Boiled Pulp Fiction
The publishing industry responded with a smorgasbord of pulp magazines that became instant collector's items. Black Mask, True Detective Stories, Five Novels Monthly, Ten Detective Aces and Thrilling Adventures flourished with stories by none other than Dashiell Hammett, Raymond Chandler, L. Ron Hubbard, Walter B. Gibson, Lester Dent, Carroll John Daly, Earle Stanley Gardner, Robert Leslie Bellem and Norvell Page, to name but a few.
The staccato rat-a-tat-tat of a Thompson submachine gun was as vital a part of the era as the clickety-clack rhythm of a pulp maestro's typewriter. These stories and the popular films of the era were grim, hard-boiled depictions of a ruthless and often heartbreaking underworld. But they were not stories without hope. In fact, the pulp writers infused their heroes with All-American qualities of intelligence, compassion and an underlying sense of justice.
While the film industry has long been eager to recycle its classic film libraries with VHS and DVD restorations, the pulp collector has long anguished at the disintegrating state of America's classic pulp stories. But technological advances and the print-on-demand industry have helped make it possible for widespread republication of these action-packed gems.
The Re-Emergence of Pulp Fiction
Take Sanctum Books, currently republishing the entire Shadow series written by Walter B. Gibson, in addition to Lester Dent's legendary Doc Savage novels. Galaxy Press has reprints of L. Ron Hubbard's astonishing output encompassing multiple genres. This ongoing project reprinted 153 of Hubbard's tales in a total of 80 volumes accompanied by state-of-the-art audiobooks that emulate the Golden Age of Radio for both CD and digital audio downloads.
Black Dog Books and Adventure House are enjoying success reprinting westerns, crime thrillers and science fiction tales from the '30s and '40s.
Thanks to these publishers, the works of Gibson, Hubbard and Dent and so many others are finding a new audience.
These stories—and these authors—don't simply represent yesteryear's action stories, but they constitute a slice of American cultural history. These are the stories that entertained a nation on the brink of the second World War and the ushering in of the Atomic Age. It was an era of great uncertainty, massive global conflict, and political upheaval. Perhaps its similarity to our era is part of the allure, but no matter the reason, the preservation of these pulp stories is being hailed with widespread acclaim, extraordinary fan interest, and positive scholarly evaluation.
Hard-boiled writing has never really gone out of style, and each generation reinvents the genres of the past, but those originals—those legions of pulp writers who hacked out stories at a breakneck speed to make a living—possessed a quality of talent that arguably remains unsurpassed in contemporary American literature.
With the original pulp magazines crumbling into brown dust, these modern editions ensure that future generations will enjoy the best of the pulps for many years to come.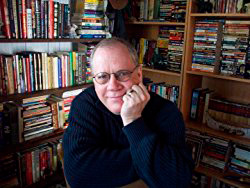 Article by guest blogger, Thomas McNulty
Thomas McNulty is a graduate of Columbia College in Chicago and an outspoken proponent for the advancement of literacy.  His first book was a biography of Errol Flynn and his western adventure novels include Trail of the Burned Man, Wind Rider, Death Rides a Palomino, Showdown at Snakebite Creek and Gunfight at Crippled Horse. He lives in Illinois and you can visit and chat with him at tommcnulty.blogspot.com.