GET A
FREE EBOOK

WHEN YOU JOIN OUR MAILING LIST

Plus, get notified of special offers, upcoming events and more!
Battlefield Earth: A Saga of the Year 3000 now available in trade paperback and audiobook editions. A swashbuckling science fiction saga of adventure, daring and courage, when man is an endangered species and the future survival of what's left of the human race is at stake.
Battlefield Earth is a totally revolutionary, game-changing, multi-cast production stretching the boundaries of audiobooks and raising the bar sky-high. The ultimate in dynamic sci-fi storytelling, this audiobook will fully immerse you in a virtual movie in your mind. You've simply got to experience it for yourself. To listen to an excerpt of this sci-fi bestseller, click on the link above.
REQUEST A CATALOG
Email us with your name and address and we will send you a free copy of our latest catalog.
For over 30 years, L. Ron Hubbard's Writers and Illustrators of the Future Contests have been at the forefront of launching the careers of new Sci-Fi and fantasy writers and artists. Winners are published in the annual Writers of the Future anthology, which is accompanied by essays on the craft and business of writing and illustrating by established professionals in the field.
Watch the book trailer for Writers of the Future Vol 33 below.
Volume 33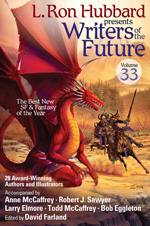 What if … you could find all the award-winning stories–a variety of creative and fresh new ideas–all in one anthology? What if IS here. Where giants of speculative fiction reveal the BEST new sci-fi & fantasy of the year. 14 short stories plus 3 bonus stories and articles on how to write from NYT bestselling authors L. Ron Hubbard, Robert J. Sawyer, Anne McCaffrey and Todd McCaffrey.