Battlefield Earth trade paperback
$22.95
---
AVAILABLE FORMATS
In the year A.D. 3000, Earth is a dystopian wasteland, plundered of its natural resources by alien invaders known as Psychlos. Fewer than thirty-five thousand humans survive in a handful of communities scattered across the face of a post-apocalyptic Earth.
From the ashes of humanity rises a young hero, Jonnie Goodboy Tyler. Setting off on an initial quest to discover a hidden evil, Jonnie unlocks the mystery of humanity's demise and unearths a crucial weakness in their oppressors. Spreading the seeds of revolt, Jonnie and a small band of survivors pit their quest for freedom in an all-out rebellion that erupts across the continents of Earth and the cosmic sprawl of the Psychlo empire, making it one of the best space opera books of our time.
For the fate of the Galaxy lies on the Battlefield of Earth.
"Pulse-pounding mile-a-minute sci-fi action adventure that does not stop. It is a masterpiece of popular adventure science fiction." —Brandon Sanderson
"Over 1,000 pages of thrills, spills, vicious aliens and noble humans. I found Battlefield Earth un-put-downable." —Neil Gaiman
"Battlefield Earth is one of the great classics of space opera science fiction, with all of the swashbuckling energy and wonder of Star Wars. With great heroes, battles, wonders, and interstellar intrigue, this is a book that you won't want to put down." —Dave Wolverton, author of Star Wars: The Courtship of Princess Leia
"Battlefield Earth is a terrific story! The carefully underplayed comedy I found delicious. A masterpiece." —Robert A. Heinlein
"Space opera that hits the right notes. It's provocative, exhilarating and genuinely enjoyable." —SCIFI.com
"Good old-fashioned space opera (Buck Rogers stuff) makes a solid comeback in L. Ron Hubbard's Battlefield Earth…. If you think they don't write 'em anymore like they used to, take heart—here's 800 pages from one of the originals." —New York Newsday

Read the first 13 chapters of Battlefield Earth and see why it is one of the best space opera books.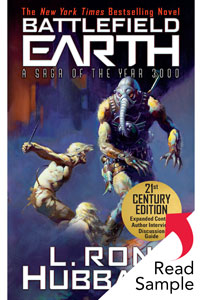 "Recently there came a period when I had little to do. This was novel in a life so crammed with busy years, and I decided to amuse myself by writing a novel that was pure science fiction." –L. Ron Hubbard
These whimsically unassuming opening words of L. Ron Hubbard's introduction to 1982's Battlefield Earth are deceptively revealing. The novel is pure science fiction, but of monumental breadth and creative vision.
Written with a phenomenal burst of creative energy in a sustained eight-month period in 1980 this epic novel is nothing short of massive: "428,750 words long plus intro," as Ron finally calculated from the running tally with which he marked his daily progress.
Battlefield Earth, of course, signaled L. Ron Hubbard's return—after an absence of three decades of extensive research, writing and lecturing about the human mind and the spiritual nature of man—to popular literature generally and, specifically, to speculative fiction, whose modern form and dimensions he was instrumental in defining.
First published in October 1982, Battlefield Earth became a breakaway New York Times and international bestseller and has been translated into scores of languages.
By Pavarti · ★★★★★ ·
I know right? 5 stars? How is that even possible? And yet here we are. This book is SOOO amazingly good. It is detailed, specific, imaginative, technical, possible and impossible all in one breath. The world Hubbard has created here is so detailed it's hard to believe it doesn't actually exist.
By Cesar · ★★★★★ ·
This is an amazing science fiction saga. I've read Battlefield Earth several times and its one of those books you keep around as you know you'll pick it up and read it – yet again!
By Dennis Hall · ★★★★★ ·
I read the book back in the 80's and I am reading it again. It is like reading it for the first time. I really like the book and am glad it has published again.
By Scott Gregory · ★★★★★ ·
This is a great audiobook that takes the book to new heights. There were many good actors and great sound effects. I found myself thinking of ways to increase my listening time because I enjoyed it so much! Highly, highly recommend it!
By Fred Lusk · ★★★★★ ·
One of the best sci fi books… So many twists and turns..
By Danail Karadaliev · ★★★★★ ·
Amazing book, maybe one of the best post-apocalyptic, and the most epic one.
By Ed Walters · ★★★★★ ·
This is my favorite Sci Fi book!
| | |
| --- | --- |
| Weight | 4 lbs |
| ISBN | 9781592129577 |
| Format | Trade Paperback |
| Genre | Science Fiction |
| Length | 1072 pages |
| Other Attributes | Award Winner, Novels |