There are all kinds of crazy, but there's only one Yukon Madness. And Royal Mountie Tommy McKenna has seen first-hand the terror that follows in its wake … his partner murdered and fed to a pack of wolves.
But that's only a taste of the horrors to come. Bent on revenge, McKenna sets out to find the madman himself—a monster who goes by the name Itauk. He quickly finds, however, that there's only one way to get to the beast—through the man's raven-haired beauty of a girlfriend, Raja.
But whose side is Raja on? Can McKenna win her over? Or will he too end up dead meat? The bait has been cast, the scent has been taken, and the trap has been set. The only question is, who is the predator and who is the prey?
Also includes the adventures "The Cossack," which takes place in revolutionary Russia and explores the high price one man pays for refusing to kiss a Duchess; and "The Small Boss of Nunaloha," the exotic story of a man who may be short, but who stands tall when it comes to defending his turf—an island in the Pacific.
SAMPLE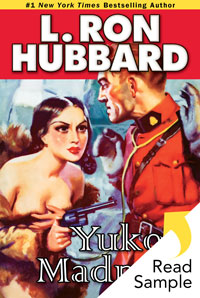 ABOUT THE AUTHOR
L. Ron Hubbard never wrote a word, conceived a character, or described a setting without first finding out all he could about the people and places that drove his stories. He wrote: "I began to search for research on the theory that if I could get a glimmering of anything lying beyond a certain horizon, I could go deep enough to find an excellent story. I began to read exhaustively. I wanted information and nothing else." His exhaustive research—and search for the excellent story comes through in this book three times over.