Who is Wind-Gone-Mad? He is an ace pilot, a fearless fighter, and the ultimate defender of a war-torn China. But he is also an enigma, a man in disguise, his true identity shrouded in mystery. And he faces one ruthless nemesis above all … a man known simply as "The Butcher."
The epic battle has been set into motion by Jim Dahlgren—an American executive with the Amalgamated Aeronautical Company. He is determined to give China a fighting chance against The Butcher … and against the Western diplomats whose sole interest in the country is to profit from its internal strife. China's only chance, Dahlgren realizes, is the legendary Wind-Gone-Mad.…
To The Butcher, China is a side of beef to carve up and serve at his pleasure. But when Wind-Gone-Mad flies into the action, it may well be The Butcher who ends up being dead meat. Ultimately, the only thing more thrilling than the mystery man's fighting spirit is the true nature of his identity.
Also includes the Asian adventures, "Tah," the tragic story of a twelve-year-old boy betrayed by his father … and by his life; and "Yellow Loot," in which the pursuit of a priceless stash of ancient amber leads to a heart-stopping chase on the Great Wall of China.
SAMPLE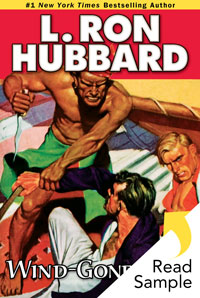 ABOUT THE AUTHOR
As a young man, L. Ron Hubbard visited pre-Communist China three times, where his closest friend headed up British intelligence. In a land where communists, nationalists, warlords and foreign adventurers schemed for control, Mr. Hubbard gained a unique insight into the treacherous and bloody battles for domination in the region. In addition, his personal experiences as a pilot gave his air stories a vivid sense of reality that no other writer could match. Combining this with his first-hand knowledge of China gave him the opportunity to create stories such as Wind-Gone-Mad, which left readers feeling like they had lived the adventures themselves.