Decadence and murder found on the dark side of the big city pales in comparison to the freak show found by undercover US narcotics agent Bob Clark in The Carnival of Death.
Clark's investigation begins with cocaine and leads to cold-blooded murder—the discovery of one, and then another, headless corpse. Who is behind the slaughter? Are the killings tied to the drug traffic? Or is a deeper, darker, and even more sinister conspiracy unfolding in the carnival?
There are plenty of distractions—bright lights and beautiful girls—but Clark better find the murderers of the midway fast. Because the next head that rolls could very well be his own.
Also includes the mystery "The Death Flyer," in which a man and woman find themselves trapped on a ghost train and bound for a deadly crash … unless they can find a way to derail fate and cheat death—on the fly.
"Roars to life." —Library Journal
SAMPLE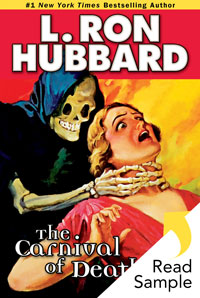 ABOUT THE AUTHOR
In 1934, while living in New York, the heart of the publishing industry, L. Ron Hubbard struck up a friendship with the city's medical examiner—a relationship that started his education in undetectable crime and provided him with authoritative clinical background for his detective stories.