Women in Aviation and The Golden Age of Flight
As with all aviators, women in aviation owe a salute to the Golden Age of Flight and it's early pioneers. These include:
Those who invented the airplane and other aircraft.
The pilots willing to test them—including women, who were rarely recognized.
Those who popularized flight through air meets and publicity.
The authors of popular fiction, writing stories of aerial adventure for all to experience, like L. Ron Hubbard (who happens to also be one of the early barnstorming pilots).
First in Flight
On November 21, 1783, the Montgolfier brothers, with great fanfare, staged the first free ascent of a hot air balloon carrying humans. The aeronaut's name was Jean-Francois Pilatre de Rozier and his passenger was the Marquis d'Arlandes.
Benjamin Franklin witnessed the ascent while another nearby viewer reportedly asked, "What good is it?"
Franklin, with his usual but uncommon perception, is said to have replied, "What good is a newborn baby?"
The mythical escape of Daedalus and Icarus aside, this ascension began the age of human flight. An age that would see aeronautics develop in just 186 years from the baby steps of the first flight of the Wright Brothers to landing on the moon.
That newborn baby is still growing up.
And the advances keep coming, like electric flight (to help reduce man's carbon footprint) and reusable rocket boosters (to take us to the stars … or at least to Mars).
Today, the saga continues with a very important element gaining traction:
Women are increasingly participating in aviation, including flying fighter jets in military programs, such as Navy Top Gun graduate Becky Calder.
Natasha "Phoenix" Trace, albeit a fictional character in the just-released Top Gun: Maverick movie, has the expertise and competence to make her an equal with the top professional jet fighter pilots in the world. See the Maverick "Meet Phoenix" Clip and Trailer here:
This is not a new story, though it is an important one. Women have played an important role in the history of aviation.
Aviation's pioneering women included Marie Thible of France, the first woman to pilot a hot air balloon on June 4, 1784.
Then there was Harriet Quimby, who attended an early East Coast flight school to become America's first licensed female pilot in 1911.
Around the same time, there were several others in Europe:
Raymonde de Laroche and Marthe Niel of France, the first two women in the world to become licensed pilots.
Marie Marvingt also of France, the third woman to get a pilot license and possibly the first to fly in combat during WW I.
Helene Dutrieu of Belgium, licensed in balloons and airplanes, who set many early aviation records.
Later on, there were the exploits of these famous women in aviation:
Amelia Earhart—first woman to fly solo across the Atlantic Ocean.
Jacqueline Cochran—first woman to fly supersonic.
Valentina Tereshkova—the first woman to fly in space.
Sally Ride—first American woman to fly in space.
Here is a trailer for a documentary about the first Women's National Air Derby in August 1929. Twenty accomplished pilots entered the race confirming that women were here to stay in aviation.
But, what about the unknowns?  The regular gals just making a living in the cockpit. Particularly early on.
Are there stories about them?
You bet there are!
One, who is little known today but played a major role in WW II, is Nancy Harkness Love. She was the leader of the Women Air Force Service Pilots (WASP) ferry division.
A great biography about this very capable flyer is Nancy Love and the WASP Ferry Pilots of World War II by Sarah Byrn Rickman.
The ferry pilots flew every kind of Army aircraft—trainers, transports, fighters, and bombers. They helped get the warbirds to the war and the derelicts of combat to the boneyards for salvage.
Their services were essential to the war effort, yet their story was almost lost. I'm glad it is resurfacing. They deserve our gratitude, our thanks, and our respect.
The female pilots of today truly stand on the shoulders of these giants.
Take Christine Mau for instance. She is the first woman to pilot the cutting-edge Lockheed Martin F-35. In this article, she specifically credits the WASP with stimulating her early dreams of flight.
Check out this short video about the WASP.
And the beat goes on with an ever-increasing tempo. An all-women effort by Delta Airlines' WING Flight—Women Inspiring our Next Generation—took 120 young women from Salt Lake City to NASA Houston. Perhaps some of those gals will reach for a career in aviation.
In addition to the stories of these real pilots, there are the aviation tales that helped spark their interest and passion to fly, like this aviation book by L. Ron Hubbard about a woman pilot in the time leading up to WW II.
Test pilots Bill Trevillian and Kip Lee are testing rival new fighters for the military. But something is amiss as serious problems keep bedeviling both machines. Tensions rise as a fly-off before the top brass looms.
Could there be a saboteur?
Even in the dangerous environment of experimental flying, a high-stakes fly-off and the uncertainty of sabotage, there is still a bit of time for a budding romance.
And L. Ron Hubbard expertly weaves the tale with the yarn of a great storyteller.
Written in the gritty style of 1930's pulp fiction, this story moves fast. It was originally published in the August 1940 edition of Five Novels Monthly, one of the many pulp magazines Mr. Hubbard wrote for.
Now, you can order a copy of Sabotage in the Sky right here.
As a pilot myself, I love the realism in his stories—he lived the adventures!
Mr. Hubbard's aviation career began in 1931 when he learned to fly both gliders and powered airplanes. His professional approach to these endeavors resulted in a national glider soaring record and a month of barnstorming with friends before college resumed in September. This, along with continued flying in the years leading up to WW II, provides the basis for his many realistic aviation stories.
As any writer knows, the devil and the adventure are in the details.
Another of my favorite aviation stories is available as a free download. You can enjoy it too on your e-reader in just a few minutes: On Blazing Wings
This story takes place in the far north of war-torn Europe. It features daring men, a courageous woman, and a supernatural glimpse of the workings of fate. Don't miss this one!
And if you are a pilot, or yearn to be one, don't miss his other stories of the Golden Age of Flight (there are over 10 in all).
Technology back then was a compass, a chart, a stopwatch, basic instruments and radios, and seat-of-your-pants (literally, as pilots use this term for all of the physical senses used). Whether you were man or woman, whatever was lacking was made up for with a cool head, skill, ingenuity, and courage. This has been called the "right stuff."
These qualities are still in demand today. When the screens go blank in a modern airliner, the technology reverts to the Golden Age.
Pilots must be able to revert as well.
And we learn some of these old techniques through the stories of those who used them every day. Stories about the greats of aviation told by great writers who also flew.
We all stand upon the shoulders of giants, not the least of which is L. Ron Hubbard and his wonderful stories from the Golden Age of Flight.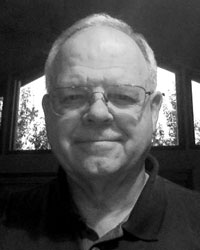 Cam Potts is owner and Chief Scribbler of Cam Potts Copywriting in Palmer, Alaska. He specializes in SEO content writing for aviation companies.
A pilot for over 53 years with a BS in Aerospace Engineering, Cam is now retired from a 40-year airline and aerospace career. Copywriting allows him to pursue two of his favorite pastimes—the world of flight and storytelling.
He lives outside of Palmer with wife, Nan, and the best dog in the world, Brushy.
You can contact Cam on LinkedIn or at campotts.com