Escape the Pandemic!
Scouts Get Whisked Away While Completing Their Reading Merit Badge
Guest blogger Cartney Wearn
If there was ever a time for exciting fiction, for a good read, for a chance to travel to other times and places with your favorite author, it's now.
In all my years as a Scoutmaster, the challenge to keep kids engaged has never been greater. The pandemic has made our meetings and outings—camping trips, river rafting, hikes, you name it—all impossible for the short term. Even our trip to Philmont Adventure Base in New Mexico, unfortunately, had to be canceled. And Zoom meetings can only offer so much.
We were wondering what we could do that would somehow keep our activities, and our reputation as a high adventure troop, intact. And so we turned to reading.
Yes, reading! And earning a merit badge—the Reading merit badge.
It has turned out to be a fantastic option to keep the dream of adventure alive in our group, while also making strides forward with a fun and entertaining merit badge. A large portion of our troop participated, and when we were just starting out, we decided to spread the love of reading further and contacted two other troops to see if they'd like to join us. The response from their scouts was excellent, and we ended up having multiple scouts from Troop 88, Troop 8, and Troop 555, representing a wide spectrum of scout ranks, from Scout and Tenderfoot, all the way up to Life Scout.
This level of participation meant that we had even more voices contributing to the discussions of each book and also meant that we could serve another key aspect of scouting and what it means to be a scout—forging new friendships. The discussions have proven to be lively and engaging, something parents routinely marvel at in this age of cell phones and social media.
On the Reading merit badge, scouts get to choose which novels to read, and what authors to explore. Science fiction has consistently been the most popular genre among young readers, followed by fantasy as a close second. Because of his prominence within the Golden Age of those genres, it was no surprise that among the great authors and classic novels the scouts chose to read, L. Ron Hubbard and his classic fiction stories figured prominently.
Along with famous titles like Ray Bradbury's Fahrenheit 451, Marjorie K. Rawlings' The Yearling, Simon Sebag Montefiore's The Romanovs, Harold Keith's Rifles for Watie, the scouts read Mr. Hubbard's groundbreaking science fiction space opera To the Stars.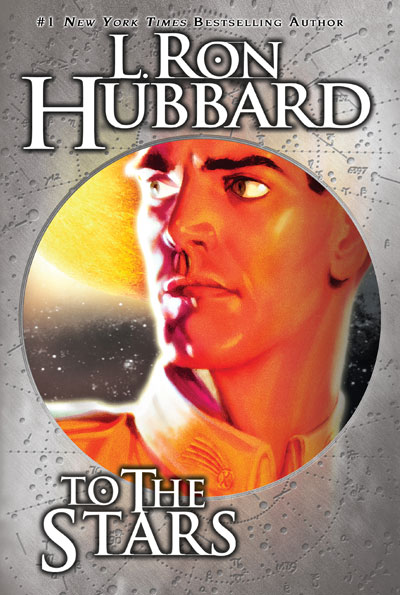 To the Stars was one of the chosen titles for the merit badge requirement by several scouts. It is one of the first stories to ever deal with the time dilation of interstellar travel, and tells a dramatic story of wanderlust and love, caught up in a devastating betrayal. It is a concept that has been featured in countless science fiction stories since, including the recent Christopher Nolan film, Interstellar.
The theory of time dilation is "simple" if one understands Einstein's General Theory of Relativity and can be summed up as, "Time gets slower as one travels faster." So while the crew in the novel traverse the stars at speeds nearing that of light, time for all of the planets around them—and their loved ones trapped there—stretches out.
The crew experiences weeks or months, while Earth and other planets pass through decades or even centuries.
The novel itself has a celebrated history. Most recently, Publishers Weekly gave the book a positive review, calling it one of Mr. Hubbard's "finest works," and Alan Cheuse highlighted the work on National Public Radio's program All Things Considered as a top literature holiday pick.
Our scouts agreed.
Life Scout Laura said, "I found To the Stars to be riveting. During the course of the book, I kept thinking I had figured out the story only for it to twist in a different direction again and again. I appreciated the author's creativity and greatly enjoyed reading this book for the merit badge."
Another Life Scout, Fiona, said, "I really enjoyed To the Stars. I loved how the storyline developed throughout the book. By far my favorite part was the end when the main character—without giving too much away!—figures out something major, leaving you stunned. I can't wait to read more by this author."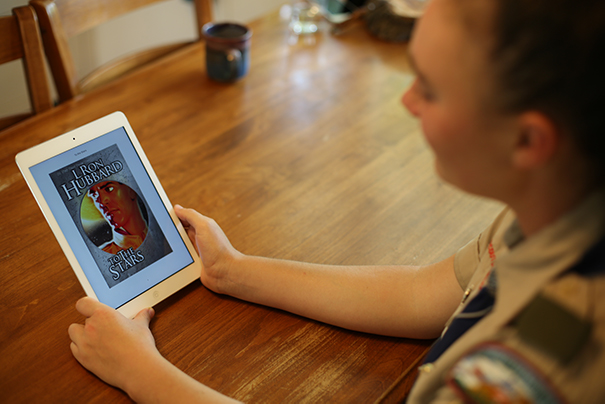 First Class Scout Cassidy remarked, "L. Ron Hubbard is an amazing author. From the minute I open one of his books, I am hooked. He builds an incredibly vivid world and then throws you into it, immediately setting off the story. Sometimes when I read a book by a different author it takes me a while to get interested in it. This is not the case with Mr. Hubbard's literature. His stories are so suspenseful that my heart rate actually speeds up. Sometimes I find myself forgetting to breathe. I love how he describes in such detail the environment in which the story takes place. His mastery of the English language and his unbelievably broad vocabulary make his books really stand out to me as classic works of fiction."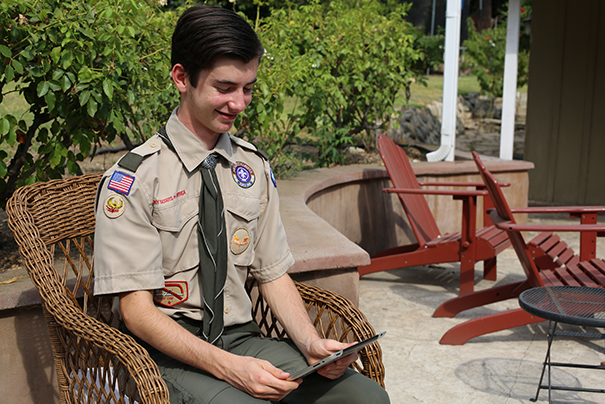 And that's just one of the scores of novels and short stories available to scouts that can be read as part of this merit badge. There is a wealth of classic stories to choose from in several genres. Mr. Hubbard was not only one of the leading lights of science fiction and fantasy, he wrote a great deal of adventure, crime, and western stories as well.
Some of Mr. Hubbard's all-time most famous and groundbreaking works include: Fear, Typewriter in the Sky, Slaves of Sleep, Masters of Sleep, the Ole Doc Methuselah series, Final Blackout, and my personal favorite Battlefield Earth. (L. Ron Hubbard fiction book list)
Scoutmasters like myself will be pleased to find in Mr. Hubbard's works qualities familiar to scouts—especially in his heroes. They are often living embodiments of the Scout Oath and Law, and even reflect well on the Scout slogan, "Do a good turn daily."
His stories are easy to access too, even during a pandemic. Most libraries have many of his novels in most genres. Online platforms such as Audible and Amazon also feature his works.
Galaxy Press, which publishes his library, have also made several adventures, detective, and western stories available for free, via these links:
And if all else fails, you can always do the old school thing and buy them online or at local bookstores! That's always been my own personal preference.
Some may be surprised to learn that not only was L. Ron Hubbard himself a scout, but he was one of the youngest Eagle Scouts in America. He joined the program in 1923 and quickly rose through the ranks, completing many merit badges along the way, culminating with the attainment of the rank of Eagle Scout in 1924. He even represented Troop 10 in a meeting with the then-President of the United States Calvin Coolidge, making him one of the most famous Eagle Scouts of his day.
"Of all the various information which became important to me, such as photography, woodlore, signaling and many other subjects, the basis of it was laid in Scouting. I am very indebted to a great many, very fine men who gave their time and attention to a restless, boisterous and extremely active boy and teenager, and I must have tried their patience many times but I never heard of it from them." —L. Ron Hubbard
Overall, this experience with the scouts reading such acclaimed and exciting fiction has kept the adventure alive in our three troops, while we wait out the days until we may return to the wilds on our own, exploring, camping, and learning. But in the meantime, Mr. Hubbard has blessed us with a unique voyage as well—to worlds unknown and journeys far beyond our expectations!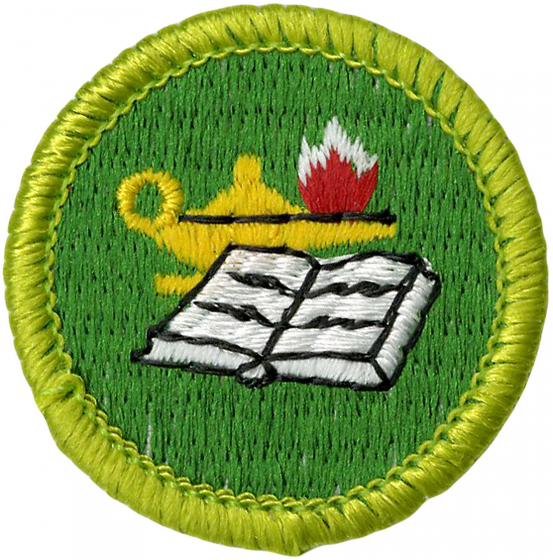 I highly recommend you invite your scouts to do the Reading merit badge, and help them escape the doldrums of this pandemic! Here is a link for the complete requirements and other information: Reading merit badge requirements
Happy Reading!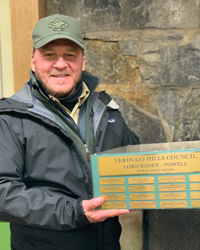 Cartney Wearn has been a fan of reading ever since he devoured J. R. R. Tolkien's The Hobbit in elementary school. A lifelong fan of Tolkien, Frank Herbert, Robert A. Heinlein, and L. Ron Hubbard, he has also been active in the Scouting program since his son turned eleven years old and joined a troop. It wasn't long until Cartney was an Assistant Scoutmaster, a post which he held for several years before eventually becoming the Scoutmaster of boy's Troop 555. Several years later, after handing that mantle off to another father, he was asked to help found girl's Troop 88 and has served as Scoutmaster of that troop for the last two years. His son Cameron is an Eagle Scout, and they both have earned their Triple Crown. Under Cartney's stewardship, Troop 88 has twice won the Baden-Powel Award for Scout Spirit in their first two years of competition at Camporee.