Are all Romance Writers Female?
Whether your flair for romance reading lies in Historical or Regency brands, or perhaps the previously popular Gothic or True Confession story, or today's more popular Romantic Suspense, I had pretty much always assumed these were female writers.
So for this Valentine's Day, I thought I would have a look to see if that was a valid premise. And while there did seem to be a predominance of female writers in the romance writing world, I was surprised to learn about the male influence within the genre.
I researched a handful and there are some fascinating stories about these famous romance writers.
L. Ron Hubbard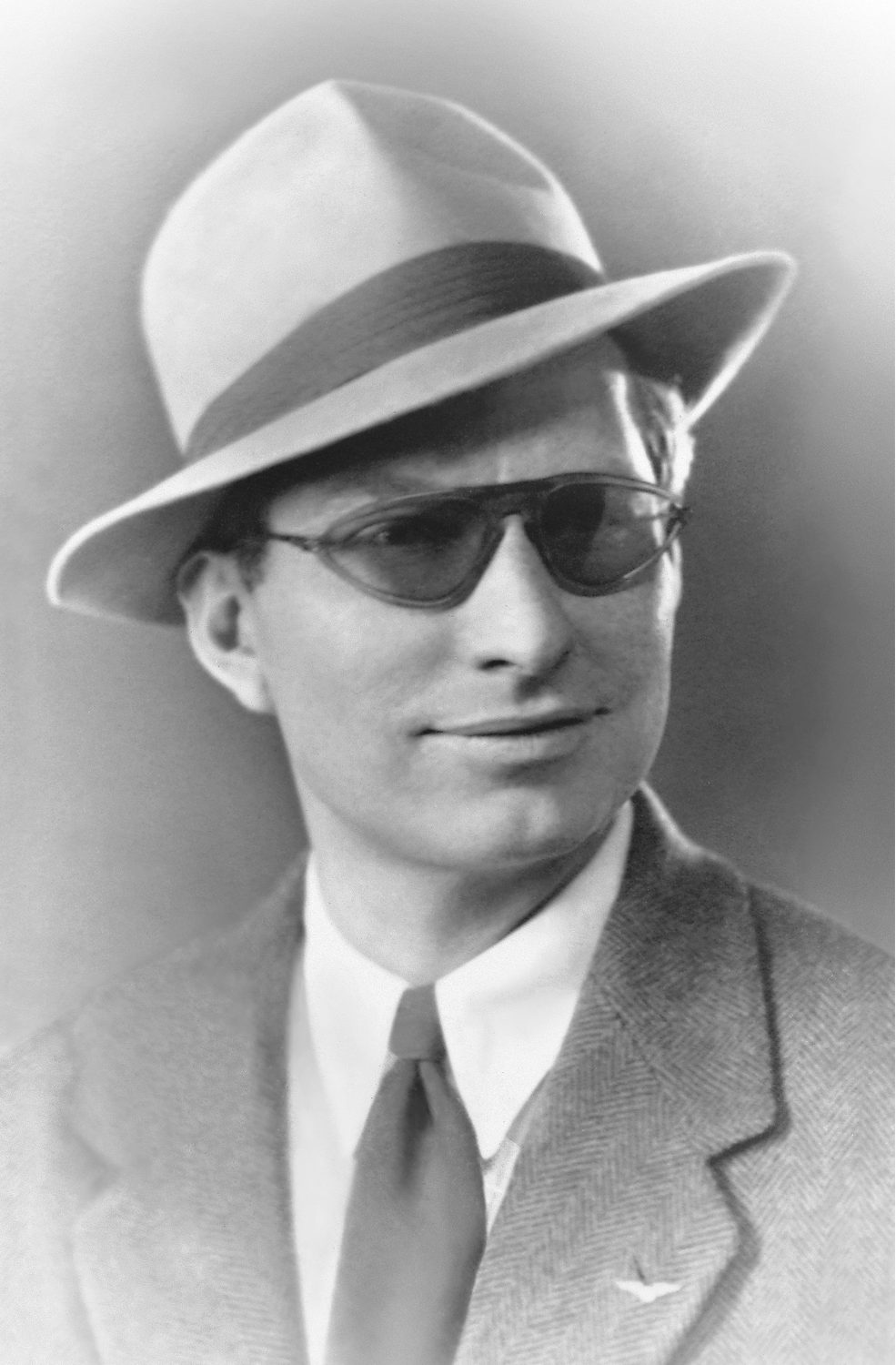 Yes, L. Ron Hubbard also wrote romance stories.
Known as the author of over 200 published short stories of adventure, mystery, suspense, western, fantasy, and science-fiction published in the 30s and 40s as well as his international best-selling novels, Battlefield Earth and Mission Earth, L. Ron Hubbard also wrote in the romance genre.
It started when he was the president of the New York Chapter of the American Fiction Guild. At the time, he observed that all the romance "confession" stories were written by unmarried ladies who had reached the ages of forty and up.
One day, while sitting around with a group of these ladies, he noted "you get pretty high rates in the confession-story genre – I ought to write some of those." They laughed. But Ron got the last laugh when he wrote and sold "romance" stories, with Tinhorn's Daughter published in Western Romances and When Gilhooly was in Flower published in Romantic Range under the pen name of Barry Randolph.
As L. Ron Hubbard would later reminisce on the subject of romance writing, it is "almost as adventurous as getting married. Because when you're getting married, you're doing something you don't know anything about."
If you are not familiar with L. Ron Hubbard's stories, you can download On Blazing Wings for free. This military love story will take you back to the Russian Finnish war with a strong female character and an unexpected hero—it is a great adventure book for couples.
Bill Spence writing as Jessica Blair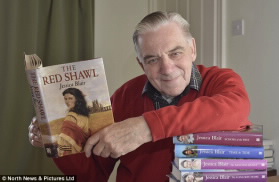 Bill Spence was born in Middlesbrough, England, in 1923. He trained as a teacher but never followed the profession as he ended up serving in the RAF (Royal Air Force) as a bomb aimer doing thirty-six operational flights in Lancasters of 44 (Rhodesia) Squadron Bomber Command.  It was from a study in whaling after the war that the Jessica Blair novels arose, the first one published in 1992. Jessica Blair as a pen name came into being when Bill's publisher, Piatkus, accepted his first historical saga and declared that, for various reasons, they would prefer to publish it under a female name and they suggested Jessica Blair.
25 Jessica Blair novels later, Bill Spence was nominated for the Romantic Novel of the Year 2014. A ninety-two year old man, who served as a Bomb Aimer in Lancasters during the Second World War. Now that's a story.
Iain Blair writing as Emma Blair 

 Hailing from Scotland, Iain Blair had begun writing while a stage actor in his spare time. At first he wrote plays for theatre and television, but later began to write novels. He started out as a thriller writer, but after being unsuccessful with this genre, switched to writing romantic fiction. Upon submitting the first of these stories, titled Where No Man Cries, to his publishers in 1982, it was suggested the book would sell better if the author was a woman. Consequently, he adopted the pseudonym Emma Blair. Speaking about his change of name, he once joked: "The publishers decided on a sex change and so that was that. Emma I became and Emma I stayed. His wife, Jane Blanchard, has said of the Emma Blair pen name: "Emma was not the quiet, retiring type but a 6ft 3in Glaswegian called Iain Blair who enjoyed a pint and a smoke."
Ken Casper writing as K. N. Casper

Ken Casper was born and raised in New York City. After graduating from Fordham University with a degree in Russian, he joined the Air Force, was stationed in the Far East, served in Vietnam, lived five years in Germany, and now resides on a horse farm in San Angelo, Texas.
Ken explains that his writing career probably started in the sixth grade when he was ordered by a teacher to write a "theme" explaining his misbehavior over the previous semester. To his teacher's chagrin, he enjoyed stringing just the right words together to justify his less than stellar performance.
Since then, he's had short stories published in a popular men's magazine and was working on a mystery when his critique partners, three romance writers, suggested he try their genre. He voiced his doubts ("Me? Write romance? Are you kidding?), but he decided to give it a try, anyway.
His first-chapter romance submission won honorable mention at the Southwest Writers' Workshop contest in 1993. Ken revised it…and revised it, then entered the Golden Triangle Writers' Guild contest in '95. This time he took first place in both mystery and romance. The romance entry later became his first sale to Harlequin Super-romance. A Man Called Jesse, was published in October '98.
Peter O'Donnell writing as Madeleine Brent
Peter O'Donnell is a British writer of mysteries and comic strips, best known as the creator of Modesty Blaise, an action heroine/undercover trouble-shooter.
In 1969 when asked if he could imagine writing a Gothic novel for Souvenir Press, he let himself be persuaded to give it a try – under a female alias, though, because this kind of books was meant for a mainly female audience. Peter O´Donnell decided upon the name Madeleine Brent. MB – Modesty Blaise´s initials.
He wrote the first four chapters as an experiment, and then heard no more about it for a long time, until an American publisher got hold of the manuscript and was enthused. Now Peter had a problem. Because he´d never thought the project would be a success he had no idea how his story was going to end. But Tregaron´s Daughter proved to be a great success in America as well as in Europe and eight more novels in this genre followed.
Madeleine Brent's real identity was one of publishing's best kept secrets. His American publisher never learned that Madeleine Brent was a pen name for more than twenty years and the correspondence invariably went to "Dear Madeleine." To give his signature a more female touch Peter O´Donnell had his wife sign the answering letters. The name was not even revealed when O'Donnell won the Romantic Novelist of the Year award in 1978.
Nicholas Sparks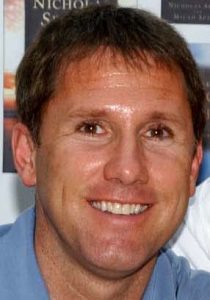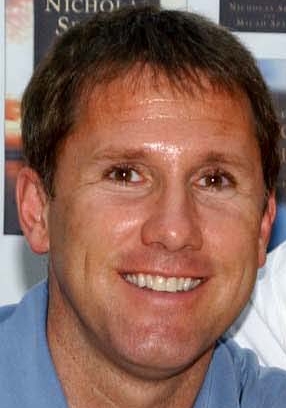 While still in school in 1985, Nicholas Sparks penned his first (never published) novel, The Passing, while home for the summer between freshman and sophomore years at Notre Dame. He wrote another novel in 1989, also unpublished, The Royal Murders.
After college, Sparks sought work with publishers and to attend law school, but was rejected in both attempts. He then spent the next three years trying other careers.
In 1990, Sparks co-wrote with Billy Mills, Wokini: A Lakota Journey to Happiness and Self-Understanding.
In 1993, Sparks moved to Washington, D.C. It was there that he wrote another novel in his spare time, The Notebook. Two years later, The Notebook was published in October 1996 and made the New York Times best-seller list in its first week of release.
He subsequently wrote several international bestsellers, and several of his novels have been adapted as films: Message in a Bottle (1999), A Walk to Remember (2002), The Notebook (2004), Nights in Rodanthe (2008), Dear John (2010), The Last Song (2010), The Lucky One (2012), Safe Haven (2013), The Best of Me (2014), The Longest Ride (2015), and The Choice (2016).
Feel like reading a good story of chivalry and love? There are plenty to choose from.
Good reading…