Hats, Horseshoes and Rodeos. A Note on Superstitions of the Old West.
From the beginning of time people have told tales of folklore, legend, myth and superstition. Such tales of the supernatural in a western setting did not escape cowboys of the Old West, and authors of Wild West novels and novelettes.
Superstitions of the Old West
Hats: Cowboy hats placed on a bed foretell an argument or is said to invite bad luck. It is a premonition of injury or death. This came about from very practical roots. Back when cowboys bathed monthly, if that, head lice were common and placing a hat on a bed was a good way to spread the menace.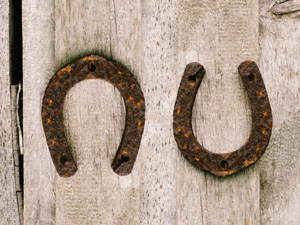 Horseshoes: During the middle ages, it was believed that because iron could withstand fire, it could also ward off all evil spirits and goblins. It was believed that witches or evil spirits would never enter a home with a horseshoe nailed to or over the door and that the horseshoe would bring good luck.
Sailors also nailed horseshoes to the foremasts of their ships to repel the evil spirits and entities who might prevent the ship and crew from safely arriving at their destination.
There are different opinions on the way the horseshoe is hung. Some people believe that hanging the horseshoe in an upward "U" position collects and holds in all the luck and powers. Others believe that hanging it downward allows all the good luck and powers to shower upon you and your home.
If you are not sure which way to hang your horseshoe, hang one in each position.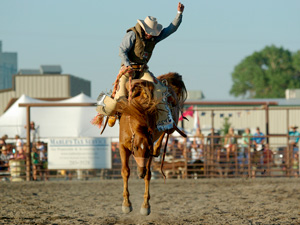 Rodeos: Do not compete with change in your pocket because that's all you might win.
And don't eat chicken before an event since you are what you eat. Wearing yellow in the arena is just plain bad luck—since yellow is associated with cowardice.
Tales of Western Superstition
"Weird West" is a subgenre that combines elements of the Western with another literary genre such as fantasy or horror.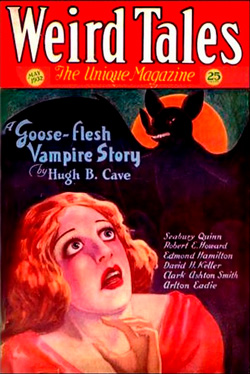 One of the earliest known superstition and supernatural menaces injected into a Western setting is "The Horror from the Mound" by Robert E. Howard. It appeared in the Weird Tales pulp magazine in 1932. It concerns a former cowboy, Steve Brill, who notices an old Mexican laborer, Juan Lopez, avoiding a mound on his property. But there is a secret held inside and the very few who know about it have been sworn to secrecy.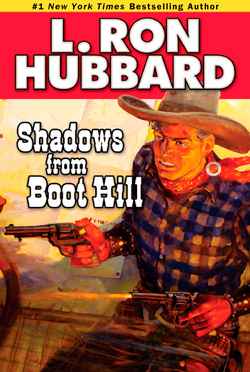 Shadows from Boothill is the only known western fantasy by L. Ron Hubbard, published in the Wild West Weekly magazine in 1940. This is the tale of outlaw Brazos who races to take a "hit job" from Whisper Monahan. But things soon take a supernatural spin when Brazos acquires a second shadow after killing a witch doctor, who with his last breath, swears a deadly curse upon his soul.
In a note to the editor, the author wrote: "Hope your readers like Shadows from Boot Hill. The Old West was superstitious in the extreme and … reeks with more fantasy than The Arabian Nights."
More recently in 2007, Emma Bull wrote and published Territory, set in the vicinity of Tombstone, Arizona, in 1881. In this novel, fantasy is mixed with Old West lore, reworking the western legend of Wyatt Earp, his brothers and Doc Holliday with supernatural forces and dark magic that manipulates people.