Meet the New Faces of Sci-Fi and Fantasy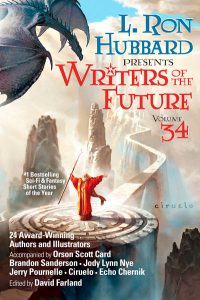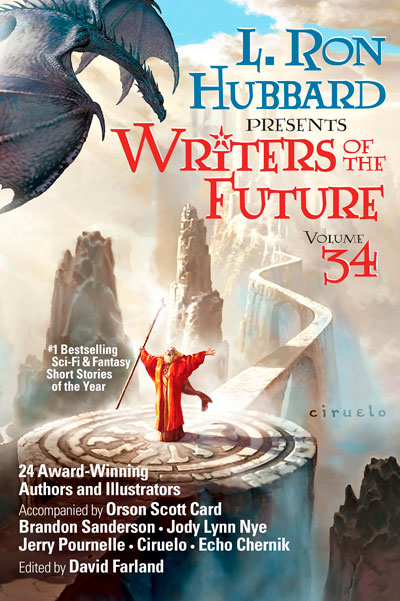 This year's release of L. Ron Hubbard Presents Writers of the Future Volume 34 debuts 12 new writers with their voices of creativity and diversity in science fiction and fantasy literature.
This latest anthology in the Writers of the Future series offers a full spectrum of short stories from techno-thrillers and Arabian Nights fantasy to humorous sarcasm and poetic inspiration. Publishers Weekly summed it up in their starred review:
"The 34th collection of Finalists for the Writers of the Future competition features expertly crafted and edited stories and art, running the gamut from humorous to bone-chilling."
In 1983 L. Ron Hubbard created and endowed the Writers Contest, followed several years later with a companion Illustrator Contest, as a means to discover and nurture new talent in science fiction and fantasy. Writer winners are selected by a blue-ribbon panel of judges including Orson Scott Card, Brandon Sanderson, Kevin J. Anderson, Larry Niven, to name but a few. For more information about the Contests, visit www.writersofthefuture.com.
This year's winners were selected from thousands of entries that came in from all over the world and here is a glimpse of some of the new voices you will meet.
Darci Stone
Author of "Mara's Shadow"
Darci Stone's story "Mara's Shadow" was strongly influenced by her love of science and world cultures. Darci has lived in Singapore, taught English in Russia, and has participated in humanitarian aid projects in India and Cambodia.
"Mara's Shadow" is a medical thriller that involves speculative biology as Ngo Lien, an entomologist in Viet Nam, races to find a cure for a dangerous new parasite that threatens to strike the world at large, as well as those dearest to her. Lien's search for a solution will cross both continents and time as she struggles to fit the pieces together before it is too late.
Darci's took her inspiration from author Michael Crichton who successfully mixes both science and adventure, a style she was hoping to imitate. As Darci explains, "I purposely made the protagonist an intelligent woman working as a scientist because I really wish more girls would go into science and technology careers. And I purposely set the story in Asia because I lived in Southeast Asia for several years, and I am tired of American protagonists always getting to 'save the world.' I selected the source of my epidemic (moths) because my husband has a phobia of moths, and I wanted to give him a legitimate reason to be afraid of them."
Vida Cruz lives in a stunningly woodsy village by a dam in Manila, Philippines with her parents, sister, and six memeable dogs. Formerly a journalist, she now writes children's storybooks that teach Chinese kids English.
Vida's story "Odd and Ugly" is an ode to transformation and re-telling of Beauty and the Beast in a Spanish-era Philippine setting. Her story is told from the point of view of the Beast and centers around a housekeeper he takes in who has more secrets than either of them can handle.
Vida's inspiration came from a mix of Philippine mythology and Disney. "For years, I had an image of a kapre [Philippine folklore of an ogre or giant believed to smoke cigars and live in old trees] looking down from his tree at a girl who was also looking up. But I could never find the right story to house the image. The year I wrote 'Odd and Ugly,' the trailers for Disney's live-action Beauty and the Beast were showing. I thought, 'What if I told Beauty and the Beast from the Beast's point of view?' And the story wrote itself in a week."
Jeremy TeGrotenhuis
Author of "The Minarets of An-Zabat"
Jeremy TeGrotenhuis is a writer from Eastern Washington State, where he grew up playing make-believe in the same desert that houses the most polluted nuclear waste site in America. He has lived in Beijing, where he studied Mandarin, and in Taipei, where he and his wife Hannah taught English.
Jeremy's story, "The Minarets of An-Zabat" centers around a sorcerer who was secretly raised in his grandmother's indigenous culture, but grew up to serve the same Empire that colonized her people. As he works to advance the Empire's goals in a new colony, his curiosity regarding the indigenous magic of the local people, as well a burgeoning romance, embroil him in a festering conflict between the Empire and the local magic-wielders that the colony depends upon. As the conflict deepens, the protagonist must come to terms with his own identity as he chooses a side between the Empire he serves and the people he has come to admire.
"The story was inspired by my travels in China and study of Chinese history and the history of imperialism, as well as by the books Imagined Communities by Benedict Anderson and Orientalism by Edward Said, which deal with postcolonial theory and the connections between individual identity and political power structures."
Amy Henrie Gillett
Author of "All Light and Darkness"
Amy Henrie Gillett lives in Texas with her husband and three kids. She was raised by a book-loving father and a word-loving mother, and received her first personal rejection at nine years of age thanks to a loving grandmother. All three ignited her lifelong need to write and her dream to publish. Amy received her BA in sociocultural anthropology and Middle East studies at Brigham Young University–Provo and employs those studies in her writing. She hopes that by producing stories that kindle people's hearts and minds, she contributes a little light to a world that sometimes seems so dark.
"All Light and Darkness" chronicles a young fugitive who is trekking with a group of refugees to hide from pursuit. He meets a young woman who's brought along her own set of troubles, and when she's captured by slavers, he has to decide whether to save her or save himself.
Amy recounts what influenced her to write the story. "'All Light and Darkness' was inspired by the Israel-Hezbollah War that broke out in Lebanon in 2006, just before my senior year of high school. Somehow, my hormone-soaked teenage brain caught on this conflict, and I found myself delving into details, particularly the plight of the refugees. It was the first time I woke up to the rest of the world, and it altered the course of my life. Consequently, when I wrote the first draft of 'All Light and Darkness,' I couldn't shake the memory of those events and the terrible forces that plague our lives, bringing us together and tearing us apart."
Eneasz Brodski
Author of "Flee, My Pretty One"
Eneasz Brodski lives in Denver, Colorado and is active in the Bayesian Rationalist community, an eclectic collection of misfits who believe humans can do better. Through the powers of science and technology, he hopes all humans currently living can someday celebrate their 5,000th birthday. Eneasz has been writing since he could hold a pencil but has only begun professional efforts in the past few years. When he's not writing, podcasting, or blogging, he can often be found gothing it up at a local goth club where he is willing to strike up a conversation with anyone in dark clothes and eyeliner.
His story, "Flee, My Pretty One," is about young people in a corrupt society rebelling against the forces that grind them down and exploit them, and how the temptations of power slowly corrupt their goals as well. Eneasz explains, "'Flee, My Pretty One' takes the theme of a righteous resistance that is corrupted from the inside from the movie Flammen & Citronon (Flame & Citron) based on the historical activities of two Danish resistance fighters who killed Nazis and collaborators during their occupation, but who increasingly found their efforts being twisted into murders of convenience rather than political action."
Diana Hart lives in Kent, Washington with her nerd-tastic husband and a panhandling peahen. She speaks fluent dog, wields an epee, and escapes into the woods whenever she can. In fact, "Miss Smokey"—her debut piece and part of a larger urban fantasy setting—is the product of several storm-sodden jaunts through the Olympic rainforest. Storytelling has always been Diana's passion. Her love affair with the craft stemmed from a well-used library card, enough mythology books to crush a cat, and years immersed in the oral traditions of the Navajo.
In "Miss Smokey," Diana explores the unique challenges life brings when you can turn into a bear. With a background in legal studies, an interest in civil rights, and a love of fantasy, Hart said, "I frequently ponder how magic would change the fabric or our society for good or ill. 'Miss Smokey' is the product of my musings, mixing current political climate with the question 'what's the worst job a shape-shifter could have?' Add in the drizzly majesty of the Olympic Rainforest and a story is born."