L. Ron Hubbard
A Biographical Chronology
"Capturing my own dreams in words, paint or music and then seeing them live is the highest kind of excitement,"
L. Ron Hubbard wrote early in his remarkably diverse and prolific career. It was, as well, an excitement he drew with consummate skill from a life of adventurous breadth and uncommon personal achievement—as an explorer and ethnologist, master mariner and daredevil pilot, filmmaker and photographer, philosopher and educator, composer and musician, and, always, before everything, as a writer and master storyteller. His boundless curiosity, his deep conviction that "To really know life you've got to be part of life. You must get down and look; you must get into the nooks and crannies of existence," carried him across continents and oceans and through the wide realm of the human condition. And all of it, first to last, became part both of L. Ron Hubbard's fiction and of the literary culture of our time.
The biographical chronology that follows profiles, although it cannot fully encompass, the dimensions of his life and work.
Visit The Fiction Bibliography of L. Ron Hubbard for a complete chronological listing of his published works.
1911
Lafayette Ronald Hubbard is born in Tilden, Nebraska, on March 13, to U.S. naval officer Harry Ross Hubbard and Ledora May Waterbury. In September, they move to Durant, Oklahoma.
The Hubbard family lives briefly in the city of Kalispell, Montana. An early bond of friendship is formed in the fall of 1913 as young Ron dances to the beat of Indian drums and impresses Blackfeet Indians at a tribal ceremony held on the outskirts of town.
From there, the Hubbards move to just outside of Helena, Montana, where the family ranch, affectionately referred to as the "Old Homestead," becomes their home. In the harsh frontier winter months, they retreat to a three-story brick house on the corner of Fifth and Beatty in Helena. Here, in the "Big Sky" country of pioneer Montana, young Ron learns to read and write at an early age, rides horses and breaks broncos, pans for gold, and is honored with the status of Blood Brother of the Blackfeet Indians by age six.
1918
Ron and his grandfather embark on a springtime "automotive adventure" in a Model T Ford, driving from Helena to Portland, Oregon. He returns to Helena and, from there, adventures on his own by train to Tacoma, Washington. In 1919, he moves with his parents to San Diego and a year later to Oakland, California.
1923
The Hubbard family moves to Tacoma and Ron joins local Boy Scout Troop 31 in April. In mid October, his father is ordered to report to Washington, D.C. The family boards the USS Ulysses S. Grant on November 1, sailing from San Francisco to New York through the newly reopened Panama Canal. During this voyage, Ron meets U.S. Navy Commander Joseph "Snake" Thompson, recently returned from studies in Vienna with Sigmund Freud. In the course of the friendship that follows in Washington, D.C., Commander Thompson introduces him further to Freud's theories and encourages him to conduct his own investigations into the nature of the mind.
1924
Now an active member of Washington, D.C.'s Boy Scout Troop 10, Ron earns numerous merit badges, Life Scout and Star Scout medals, and on March 20, he represents his troop and meets President Calvin Coolidge. Five days later, on March 25, he becomes the nation's youngest Eagle Scout. The following day he returns to Montana by cross-country train.
Youthful Adventures: 1927-1933
1927
During early June, Ron travels to San Francisco and embarks on a voyage to Guam via Hawaii, Japan, China, Hong Kong and the Philippines. In the first week of July he meets his father in Guam. During these travels, he carefully records his adventures and observations. Articles about his journeys appear in the Helena High School Nugget and the Helena Independent.
By September, he is back in Helena and becomes an editor of the Helena High School Nugget. In October, he joins the Montana National Guard's 163rd Infantry.
1928
In early May, as the school year is drawing to a close, he organizes and enters a group of classmates in Helena's annual Vigilante Day Parade. They receive the "Most Original" award for his entry of Spanish Main pirates. This and other events are carefully recorded in a ledger along with short stories based on his travels. He will continue recording fragments of stories in that ledger for the next two years.
Hubbard leaves Helena again in May, and in July travels aboard the USS Henderson from San Diego to Guam. From there, during the next fourteen months, he journeys inland to the western hills of China, back to Japan, down to the Philippines, and south to Java. He befriends a British intelligence officer, Buddhist priests, a man who is last in a line of magicians descending from the court of Kublai Khan, and meets people from many varied cultures and backgrounds. Hubbard gains greater nautical expertise aboard the twin-masted coastal schooner Marianna Maru as he plies the waters off the China coast as a helmsman and supercargo. A selection of his photographs from these travels is purchased by the stock photograph house Underwood and Underwood, and by National Geographic.
1929
Hubbard returns to the United States in September to complete his high-school education. He attends Swavely Prep School in Manassas, Virginia, where he writes a number of school papers, including "Should the Philippines Be Liberated?", "Modernism," "Go Thou Fair Lad and Discover Thy Imagination," and a book report on Revolt in the Desert by T.E. Lawrence, more familiarly known as Lawrence of Arabia.
1930
In February, Hubbard enrolls at Woodward School for Boys in Washington, D.C. In March, he writes and delivers a prize-winning speech on "The Constitution—A Guarantee of Liberty to the Individual" in a regional oratory contest.
He enlists in the 20th Marine Corps Reserve, Company G, during May, is appointed first sergeant in June, and turns out a prize-winning drill team.
Hubbard graduates from Woodward and in September enrolls at George Washington University (GWU). His studies include engineering courses and atomic and molecular phenomena, but here he also carries out his first investigation of the structure and function of the human mind. Earlier, during the summer, he launches a professional writing career, scripting dramas for radio station WJSV while attending classes at George Washington University. He also writes and performs ballads on local station WOL, all the while employed as a photojournalist/reporter by the Washington Herald.
1931
While Hubbard continues his studies at GWU, he takes up glider flying, becomes recognized as a daring pilot, and sets a national soaring record for sustained flight over the same field. He also becomes a powered-flight pilot and barnstorms across the Midwest in September with a friend. He is elected president of The George Washington University Flying Club, is secretary of the GWU chapter of the American Society of Civil Engineers, and joins a team of surveyors sent to verify the U.S.-Canadian border in Maine.
1932
In January, Hubbard sells his first magazine article, "Tailwind Willies," to the aviation journal Sportsman Pilot. In it, he details the latest aviation developments and advises pilots on flight procedures in adverse conditions.
As an editor and writer for the University Hatchet at GWU, Hubbard produces his first published fiction story, "Tah," in February, and a short adventure story, "Grounded," in April. Both are peripherally based on personal experiences or the experiences of people he encountered in the Far East. In May, Hubbard wins the Literary Award at GWU for the best one-act play with "The God Smiles," drawn from his travels in China.
In the spring, Hubbard organizes and leads the Caribbean Motion Picture Expedition. He is joined on the two-and-a-half-month, five-thousand-mile journey aboard the two-hundred-foot, four-masted schooner Doris Hamlin by more than fifty adventure-seeking college students. The voyage is completed by September. The crew brings numerous floral and reptile specimens back for the University of Michigan and Ron's photographs are sold to the New York Times.
In October, he embarks upon a voyage to Puerto Rico. As part of the West Indies Mineralogical Expedition, he not only completes the first mineralogical survey of Puerto Rico as an American territory but writes articles for the Sportsman Pilot about flying through the Caribbean Islands. He also investigates and explores some of the area's diverse cultures and beliefs, including voodoo and Espiritismo.
In November, his "Sans Power" appears in the Sportsman Pilot. His first nautical story, "Submarine," appears in the University Hatchet the same month.
1933
The expedition to Puerto Rico is completed in April. In May, Hubbard's article "Washington's Langley Day" appears in the Sportsman Pilot.
Hubbard returns to the mainland and soon moves to a small California beachfront town north of San Diego. There, while continuing to do articles for the Sportsman Pilot, he also begins his professional career as a writer of fiction. With customary gusto, each day he writes a story ranging in length from 4,500 to 20,000 words and submits it to New York publishers in an attempt to crack the market. It takes him six weeks and then he sells two stories for three hundred dollars—a princely sum in days when hamburger costs ten cents a pound. By the end of the year he is writing at a more relaxed pace—what will become his average 100,000 words a month.
The Legend Begins: 1934-1937
1934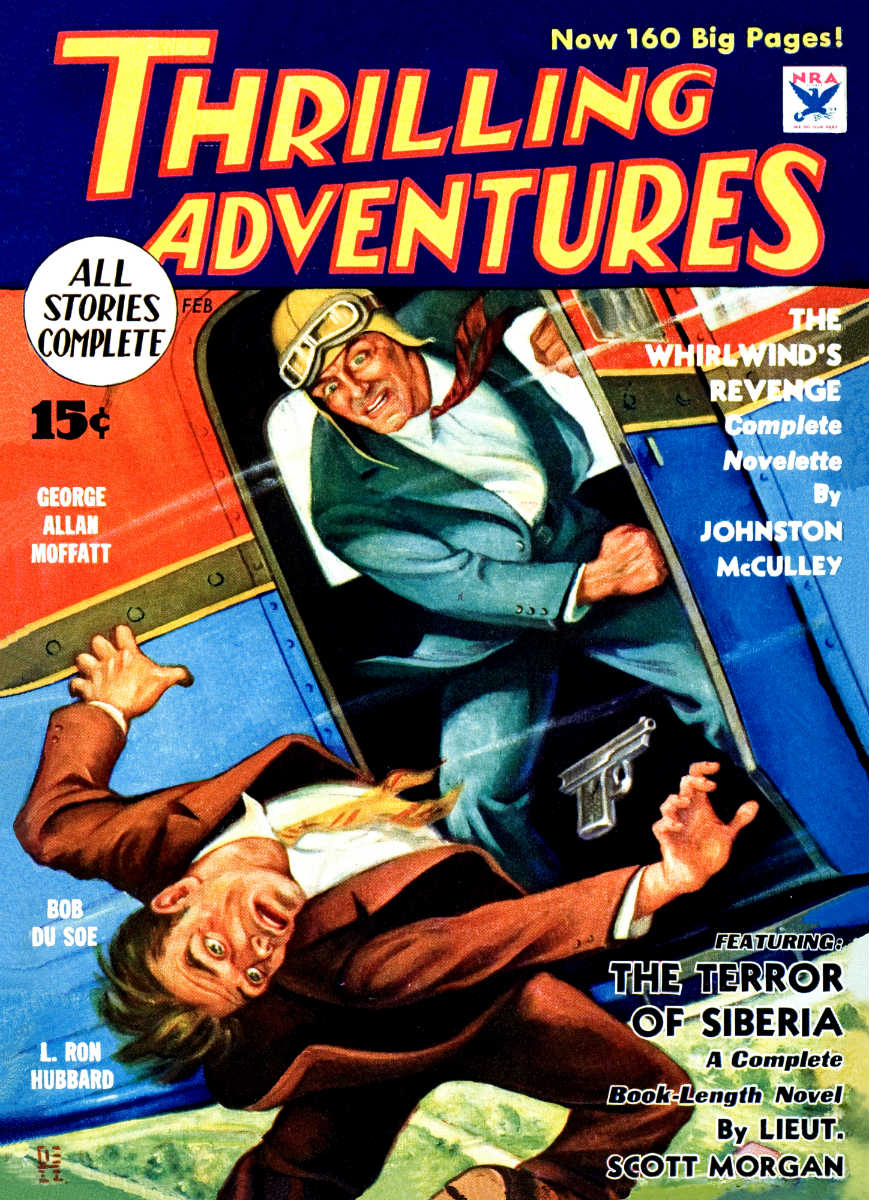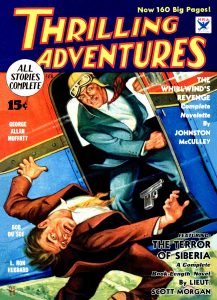 "The Green God," Hubbard's first fiction story to be published in a popular fiction magazine, appears in Thrilling Adventures in February. By December, after placing numerous stories, he hires an agent to represent his work. Employing a variety of pen names, he publishes an average of more than one story every two weeks—adding up to some 138 novels, novelettes and short stories in a six-year period. The stories cover a wide spectrum of genres, including adventure, western, mystery and detective.
1935
The New York Chapter of the American Fiction Guild elects him president, and Hubbard lends his leadership skills to a group that includes Raymond Chandler, Dashiell Hammett and Edgar Rice Burroughs. His articles about writing appear in the Author & Journalist and Writer's Review and he guests on radio shows to discuss ways aspiring writers can improve the quality and salability of their stories.
1936
Hubbard completes his first hardcover novel, Buckskin Brigades, in November. It is published in July 1937 by the Macaulay Company. The work is drawn, in part, from his youthful experiences with Montana's Blackfeet tribesmen.
1937
Columbia Pictures purchases film rights to his novel Murder at Pirate Castle and asks him to write the screenplay adaptation, which is produced under the title The Secret of Treasure Island. He works on other big-screen serials for Columbia—The Adventures of the Mysterious Pilot and The Great Adventures of Wild Bill Hickok. He also collaborates on The Spider series with Norvell Page at Columbia Pictures. During his ten weeks in Hollywood, he writes a quarter of a million words for scripts and continues to produce stories for his New York editors.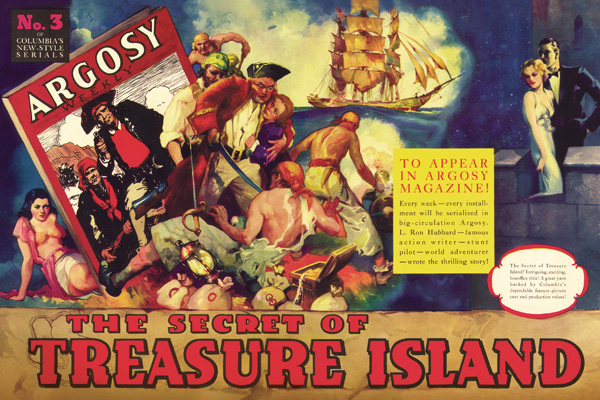 Changing Genres: 1938-1941
1938
Hubbard returns to New York where executives from Street & Smith, one of the world's largest publishers, enlist his help to fill the pages of their newly retitled magazine Astounding Science Fiction. He is asked to boost sagging sales with stories about real people—not robots and machines. He continues to write in other genres, but his decision to enter the field of science fiction is one which fundamentally changes the genre. "The Dangerous Dimension," his first story for Astounding Science Fiction, appears in the July issue.
1939
In January, John W. Campbell, Jr., editor of Astounding Science Fiction, starts Unknown magazine to provide a venue for "fantasy" stories, particularly those that Hubbard writes. Hubbard's first story for Unknown, "The Ultimate Adventure," appears in the April issue.
1940
The Explorers Club elects him a member in February. Death's Deputy is published the same month. Final Blackout is published in three parts between April and June. In June, the same month that Fear is published in Unknown, Hubbard sets sail from Seattle under Explorers Club flag number 105, in the thirty-two-foot ketch Magician, on the Alaskan Radio Experimental Expedition. He charts previously unrecorded hazards and coastline for the U.S. Navy Hydrographic Office, conducts experiments on radio directional finding, and examines local native cultures. He also does a series of radio shows on KGBU in Ketchikan, Alaska. Then, in December, he announces a Christmas story writing contest for Alaska's amateur writers in the "Golden Pen Award" hour.
"The Kilkenny Cats" is published in September and Typewriter in the Sky is published in two parts in November and December.
The U.S. Bureau of Marine Inspection and Navigation awards him the "Master of Steam and Motor Vessels" license in December. After he is back home in the Seattle area, he presents the U.S. Navy with hundreds of photographs and notes from his expedition and resumes his writing.
1941
Hubbard receives the "Master of Sail Vessels" license for "Any Ocean" in late March. The United States Navy commissions him as lieutenant (jg) in the Navy Reserve in late June. With the outbreak of war on December 7, he is ordered to active duty. He reports to Australia where he coordinates naval intelligence activities as Senior Officer Present Ashore. Nine stories, written earlier, are published between January 1942 and April 1943.
Hubbard returns to the United States from Australia and in the summer assumes command of convoy escort YP 422 in Boston. He attends submarine chaser school in Miami and commands the subchaser PC 815 in the North Pacific, where he engages enemy submarines in two separate encounters off the coast of Oregon. He also instructs at the Small Craft Training Center in San Pedro, California, is a navigation officer aboard the USS Algol, and attends the U.S. Navy School of Military Government at Princeton University. As the war enters its final months, he is sent to Oak Knoll Naval Hospital in Oakland, California, to receive care for injuries sustained during the war.
At Oak Knoll, Hubbard conducts a series of experiments dealing with the endocrine system and discovers that, contrary to long-standing beliefs, function monitors structure in the relationship between thought and the body. He begins to help fellow veterans "who had not survived the war too well."
Postwar Fiction: 1946-1949
1946
Released from active duty in February, Hubbard returns to fiction writing as a means of supporting his intensified research.
1947-1949
By July, "The Chee-Chalker" is published. In the next three years (up to November 1950), he publishes forty-seven science fiction, fantasy, western, mystery and detective stories. Among these are "Blood on His Spurs," "Ole Doc Methuselah," "Killer's Law," To the Stars, The Kingslayer, The Masters of Sleep, "Hoss Tamer" and "The Obsolete Weapon." During these years, he serves as a special officer with the Los Angeles Police Department and conducts Dianetics research in cities across the United States, including Los Angeles, Savannah, New York City and Washington, D.C. He also writes the original thesis of Dianetics, which is circulated widely among doctors, engineers and scientists across the country, and publishes his first articles on the subject, "Terra Incognita: The Mind" (Explorers Journal, Winter-Spring 1950) and "Dianetics: The Evolution of a Science" (Astounding Science Fiction, May 1950).
Exploring Terra Incognita: 1950-1979
1950
In May, Hermitage House publishes Dianetics: The Modern Science of Mental Health, which culminates Hubbard's years of research on the subject of the mind. The public response is telling: a New York Times bestseller that remains on the list for twenty-six consecutive weeks, sweeping public interest, and demand for more information and lectures. Hubbard leaves the field of fiction and Hollywood movie offers to devote his time to these demands. By 1952, his research leads him to develop Scientology applied religious philosophy. For the next three decades, he dedicates his life to writing and publishing millions of words of nonfiction concerning the nature of man and the betterment of the human condition.
During this time, he also writes, lectures and researches extensively in fields ranging from drug rehabilitation and organizational management to art and communications, while he advances and refines his understanding of the human mind and spirit. He still finds time for some notable achievements in exploration and writing.
1960
Hubbard rescripts the German film classic Blue Light for Britain's Adventure Films Production and drafts a cinematic treatment for an educational film aimed at Bantu tribesmen in South Africa.
1961
Hubbard receives his second Explorers Club flag for the "Ocean Archeological Expedition to study underwater sites of historical interest such as submerged cities" in the Aegean Sea. He enrolls in the famous New York Institute of Photography's correspondence course to familiarize himself with photographic advancements. Thereafter, he is periodically engrossed in a number of photographic projects: "East Grinstead—A Photo Story," "A Student Comes to Saint Hill" and "Sir Robert Fosset's Circus."
1964
His circus and English landscape photographs are selected for salon showings in Belgium and the International Photographic Exhibition in Nantes, France.
1965
While on a "photographic holiday" in Spain, he obtains permission from Las Palmas officials to photograph the bullfights. Equipped with telephoto lens and a Voigtlander, he completes a memorable series. Also from these travels come Canary Island landscapes and portraits of flamenco dancers.
1966
He accepts his third Explorers Club flag for the Hubbard Geological Survey Expedition, which amplifies existing knowledge of Mediterranean history.
1973
Hubbard organizes a complex shoot of the Lisbon Maritime Museum, including an ingenious series of photos of the Vasco da Gama flagship in miniature in Lisbon harbor. Also from this Lisbon stay are his official portraits of Portuguese Prime Minister Marcello Caetano.
1975
Hubbard continues his photographic work, including a project on behalf of the Curacao Tourist Board, with a special series of architectural shots of the island's historic synagogues.
Monumental Return to Fiction: 1980-1981
"Recently there came a period when I had little to do. This was novel in a life so crammed with busy years, and I decided to amuse myself by writing a novel that was pure science fiction."
During 1980-1981, Hubbard produces two million words of fiction. Among his writings are two feature-length screenplays, Ai! Pedrito! and A Very Strange Trip. Both screenplays are later adapted and released as full-length novels and become New York Times bestsellers. He also produces the largest single-volume science fiction novel ever written, Battlefield Earth: A Saga of the Year 3000, and his masterpiece of comic satire, Mission Earth—an unprecedented 1.2-million-word science fiction novel in ten volumes, for which he coins the term dekalogy.
1982
From his California ranch, Hubbard researches and releases his latest and final discoveries in Scientology. His own literary agency, Author Services, is established and he sees Battlefield Earth become an international bestseller after its 1982 release. He composes music and lyrics for Battlefield Earth—the first time a recorded "soundtrack" is created to directly accompany a bestselling novel. Shortly thereafter he composes twenty songs for the Mission Earth series.
1983
Hubbard launches an international science fiction and fantasy short story and novelette competition for new and aspiring writers, which he calls the Writers of the Future Contest. The Illustrators' Contest is founded in 1988 to encourage the speculative fiction artist in much the same way the Writers' Contest has been doing for authors.
1985
The first volume of L. Ron Hubbard's Mission Earth is published in October and becomes an instant bestseller. As each volume of the dekalogy is released through forthcoming years, each becomes a bestseller. The successive appearance of these volumes on the New York Times bestseller list constitutes a first in publishing history. Also an international bestseller is the May 1987 reprint of L. Ron Hubbard's first novel, Buckskin Brigades. All told, there are twenty-one consecutive bestsellers in the 1980s—more than for any other author.
L. Ron Hubbard passes away on January 24, 1986, but the impact of his literary legacy continues to grow. In response to demands for his work, an ongoing schedule to republish his earlier fiction and to publish previously unpublished stories is initiated by Author Services. The first two works released, Final Blackout and Fear, promptly leap onto bestseller lists, repeating their popularity of fifty years earlier and underscoring his enduring stature as a master storyteller.
To read more about L. Ron Hubbard, visit LRonHubbard.org.
---
Other articles and resources you may be interested in:
Bibliography of L. Ron Hubbard's fiction in chronological order