Hunky Hero, Sunset Maloney in Tinhorn's Daughter
Before I go any further, I had to look this one up: Definition of tinhorn: one (such as a gambler) who pretends to have money, ability, or influence.
I was reading the website, Find Me An Author/Western Fiction, and found this: "It has become apparent that the Western enjoyed its Golden Age in the 1930s and 1940s …"
So, wanting to read the best Western I could, I went in search of a 1930's Western Romance Hero. I was delighted to find a modern-day type hero who came into being in 1937. Sunset Maloney (just LOVE the name) comes from the pen of L. Ron Hubbard, a prolific writer. Sunset kind of reminds me of Alan Ladd in Shane. You know the type: quiet, unassuming, and running smack up against a ruthless greedy criminal of a man that he eventually brings down and saves the day for everyone.
I think that Thomas McNulty, author of The Life and Career of Errol Flynn, The Gunsmoke Serenade, Gunfight at Crippled Horse, and MANY other books, describes the story perfectly; "Tinhorn's Daughter is reprinted from the pages of a 1937 issue of Western Romances. Hubbard's characters are often delightful, the action heavy, and it all ends the way you want it to end. Tinhorn's Daughter is a traditional western in many ways and Hubbard adds the right mixture of action and even a little romance."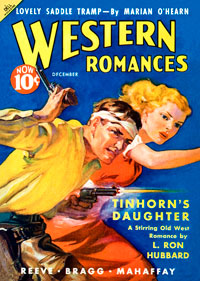 Well, Thomas, you had me at "romance."
When Sunset realizes that the woman he loves is the daughter of the ruthless criminal (tinhorn) he's been fighting, he knows what he has to do to protect the heroine and bring about justice for the local ranchers. Sunset doesn't brood about it, he doesn't mince words, he just does what needs to be done, including saving our heroine.
I just love that in a hero; they don't fuss or worry about it, they just do it! In her favor, the tinhorn's daughter really didn't know her father, as he'd left when she was very young. Like any young woman, she wanted to believe that her father was a good man. Unfortunately, he was a class-A scoundrel.
Physically, Sunset is tall, lean, and moves like a panther (sigh). He's blazing fast with guns and doesn't back down. Of course, the meet-cute is perfect. Sunset is robbing the stage coach in which our heroine is traveling from Boston. She has set out to finally find her father, after having sent him most of the inheritance she got from her late mother. To save herself from the stage bandit (Sunset), she hides in one of her traveling trunks.
You can imagine his surprise when Sunset opens the trunk and finds an unconscious female … a beautiful wisp of a girl, instead of the gold he thought he'd find. When she awakens, Sunset is the soul of chivalry and even sleeps outside so she feels more comfortable. They are very much attracted to each other, but when he finds out who her father is, that changes everything.
The setting is Big Sky country in Montana. The time is before the railroads came through. The romance is perfect.
To read a chapter, go to Tinhorn's Daughter or to hear a segment of the unabridged audiobook.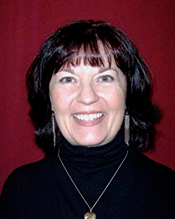 Romance can be spicy, and yet still be sweet. Being an incurable romantic, that's how she writes and her novels have been called "Hallmark perfect!" For more information on Pat, go to http://www.patadeff.com/