A True Family Radio Performance of the Western Romance "Ride 'Em, Cowboy!" by L. Ron Hubbard
Hollywood, CA / February 20, 2019
"Ride 'Em, Cowboy!" was performed Saturday night radio theatre style to over 120 guests at the L. Ron Hubbard Theatre in Hollywood. It wasn't your normal Valentine's Day romance story—unless you think that combining fire and dynamite is romantic!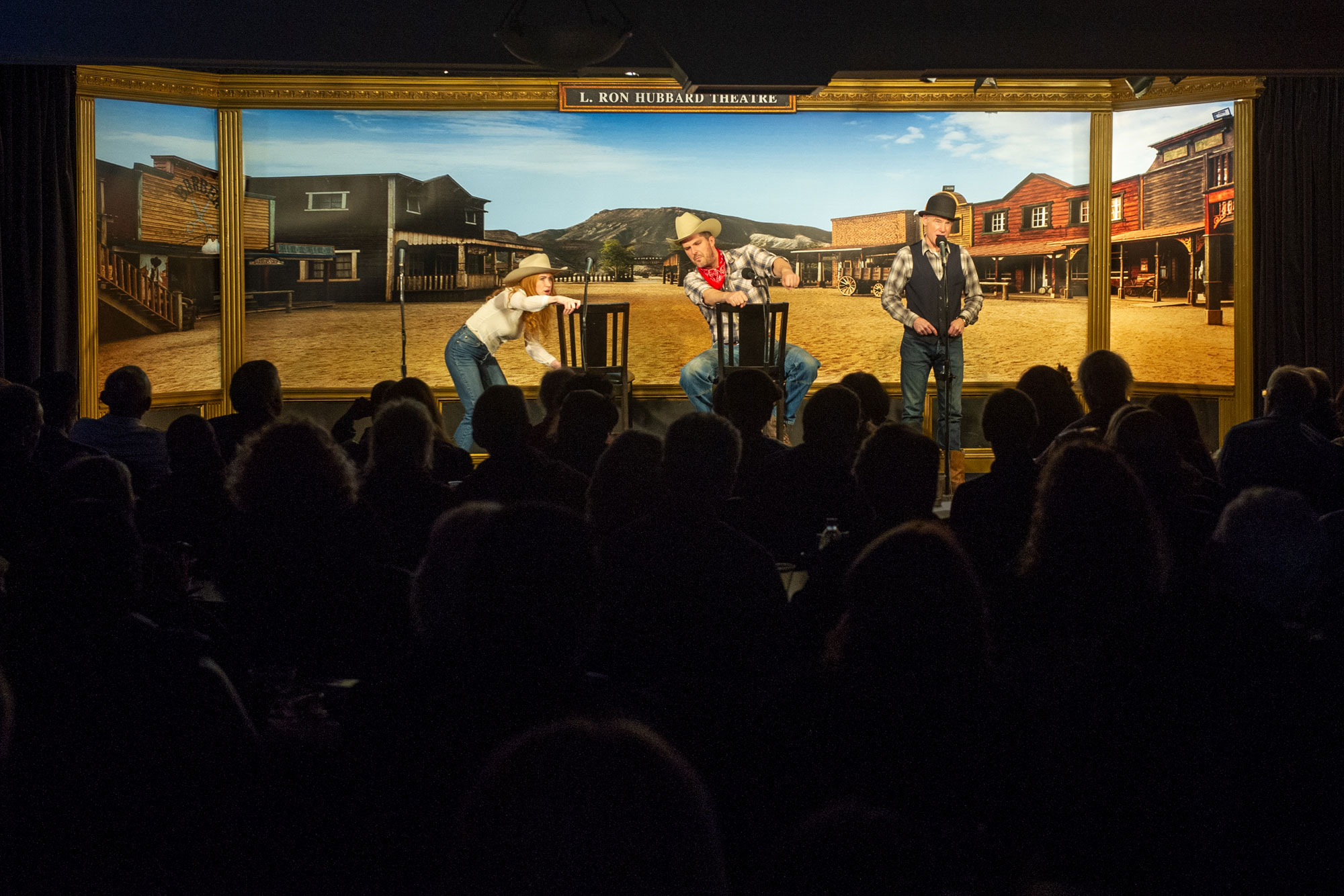 Performed by the Meskimen family, along with some help, it truly was a family radio performance. "Ride 'Em, Cowboy!" is a western romance and tells the story of two top rodeo champions, Long Tom Branner and Vicky Stuart, who have known each other since they were able to ride a horse. And now they're competing to be the champion Buckaroo. The problem with that is that there are two of them and only one—#1 champion.
Acting as director and narrator, Jim Meskimen ("There Will Be Blood," "Magnolia," George Washington in Geico ads), performed with his wife Tamra Meskimen ("Trumped!," "Adopted") as the Arena Boss, and daughter Taylor Meskimen ("Adopted," "The Hollywouldn'ts") as one of the two leads, Vicky Stuart. They were joined by Pyar Anderson ("Blade of Honor," "Will & Grace") as Long Tom Branner and Bob Caso ("Devious Maids") as the Announcer.
The 40-minute performance is now available to view at galaxypress.com/theatre-video-gallery/
Stories from the Golden Age contains 153 stories all written by L. Ron Hubbard during the 1930s and 1940s—in genres ranging from mystery to thriller, science fiction and fantasy to adventure and western, using his own and fifteen pen names—widely considered America's Golden Age of Fiction. The print version of each work includes the pulp fiction artwork that originally accompanied the story in magazine publication. In addition, each title offers a full-cast, unabridged audio theatrical presentation complete with theme music and sound effects.
For more information on the Stories from the Golden Age, go to galaxypress.com/goldenagestories/
---