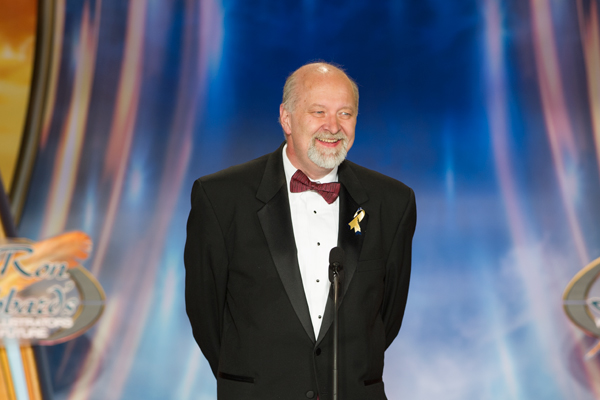 Coordinating Judge for Writers of the Future Contest.
New York Times bestselling author.
The Editor.
This is, of course, David Farland, or Dave Wolverton as we know him. He has been with the Writers of the Future Contest since 1987 when he won the grand prize award and he is now the Coordinating Judge.
To Galaxy Press he is foremost—the Editor. He knows the winning stories from the moment they are submitted all through the judging process, to finding out who the writers are by name and identity, to selecting the sequence of the stories and finally to writing the introductions.
He then takes it a step beyond that of the Editor. He now gets to co-instruct those winners at the annual writers workshop and see them become professionally published and acknowledged.
This year, he also inadvertently influenced our release date. We were sitting around in our conference room when we noticed that International Star Wars Day was the 4th of May. The subsequent comment "Dave Wolverton wrote and published novels in the Star Wars universe" sealed the date. May 4th it was.
In fact, there are five of the Writers of the Future judges and past winners who have written New York Times bestselling Star Wars titles: Kevin J. Anderson, Rebecca Moesta, Kristine Kathryn Rusch, Sean Williams and Dave Wolverton. By our count, they have together published more than 25 novels in that universe. If we missed any, we would love to know, and,
MAY THE 4TH BE WITH YOU!
To pre-order your book on Amazon.com, go here.