We asked Scott and all the winners a few questions about their stories. Scott Parkin takes us through the inspiration process of the fundamental limits of communication, and overcoming them:
1) WHAT INSPIRED YOU TO WRITE THE STORY?
Two things—the idea that "character is setting" and the broad idea of organic "limitation on expression." The story was an exercise in doing deep penetration into POV through the device of meme-limited expression that would force me to rethink how he observed and described his world. The original concept was a negotiation between two AIs that had been fundamentally limited by their programmers—one limited to five and the other limited to four—and the difficulty they would have understanding each other. As I sat down to write, though, the story became much more personal.
2) WHAT ABOUT YOUR STORY MAKES IT SPECIAL TO YOU?
In a very real way, the story represents my own struggle to reconcile my desire to write with my responsibility to be the breadwinner for my family and a deep frustration with having such a strong desire to do something (write fiction) I felt fundamentally ill-suited to accomplish. Ric's [the main character] struggle to be useful in a context where he didn't understand the rules of the game—and where his innate limitations threatened to be insurmountable barriers—was my story. His fear was my fear; his hope was my hope. What makes it special to me is his ready willingness to step boldly into an unknown world and deal with whatever the future might bring. I hope I can live up to the ideal of my own character.
3) IS THERE ANYTHING ABOUT YOUR STORY THAT STANDS OUT THAT YOU WOULD LIKE TO FEATURE?
I played a lot of games with fives in both the structure and narrative. The fives (and fours) in the plot are self-explanatory. Beyond that, every sentence is five words long (I defend hyphenations as pre-concatenations); every paragraph is either one sentence or an even multiple of five sentences long; every scene is an even multiple of 25 (five squared) words long; and the entire story is exactly five raised to the fifth power words long (3125, including title). Beyond the planned fives, the story was my fifth finalist, received after five straight rejections; I received notice in the fifth month of the year, in the fiftieth year of my life (and was awarded in twenty-fifteen). The confluence of fives outside the bounds of the story is more than a little eerie.
Scott has already taken up being a professional spokesperson for Volume 31 when he recently did an interview in Park City. Congratulations on yet another awesome profession, Scott!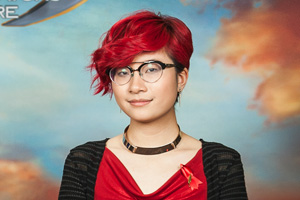 "Purposes Made for Alien Minds" was illustrated by Emily Siu. She amazingly captured Ric's character in one image.
To read this story that won for not only its content but its incredibly original composition. I have never read a story like it. To read it yourself, go here.
MAY THE 4TH BE WITH YOU!