Focus on Ken Scholes: Writers of the Future Vol 22 Winner
In addition to his Writers of the Future Award for "Into the Blank Where Life Is Hurled" (published in volume XXI of the annual anthology), Ken Scholes's fiction has won France's Prix Imaginales and the Pacific Northwest's Endeavour Award, among others. His work is published internationally in eight languages, and he's just put a wrap on Hymn, the last in his five-book Psalms of Isaak saga, due out in December 2017 from Tor Books.
He's also working on a short nonfiction book and has plans to dabble in short fiction as he ponders a YA novel before Hymn comes out.
A check of his bio shows Ken's background includes "time spent as a label gun repairman, a sailor who never sailed, a soldier who commanded a desk, a preacher, a nonprofit executive, a musician and a government procurement analyst." But his heart is in fiction, and for that, he's most grateful to the Writers of the Future Contest.
"I credit the contest for launching me into the pro waters and I continue to recommend it highly. I was just telling another writer about my experience there the other day. It is a great way to break into the field, and the workshop is amazing. I made friends through that experience that I'm still in touch with a dozen years later."
Ken also puts his time back into the contest, having returned a few times to attend the ceremony and speak at the workshop.
That's not too surprising, though, is it?
His awards alone are enough to say Ken Scholes is a fantastic writer. Reading his work will confirm it. But he's also clearly a person who wants to make a difference in other people's lives.
How better to help new writers than sit down with them and have a talk, eh?
Seriously, how better?
So, yeah, award-winner, family man and social advocate, a supporter of new writers: I'd say Ken Scholes is a guy who's going a long way toward making the world a better place.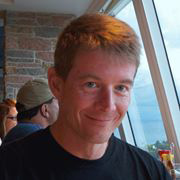 Guest blogger, Ron Collins.
Ron Collins was a Writers of the Future published finalist in 1998 and a prize winner in 1999. He has gone on to publish about 100 short stories in prominent magazines and anthologies. Each volume in his fantasy serial Saga of the God-Touched Mage, hit the top 10 on Amazon's bestselling Dark Fantasy list in the US, UK, and Australia. His short story, "The White Game" was nominated for the Short Mystery Fiction Society's 2016 Derringer Award. The first four books of his current SF series, Stealing the Sun, are available now. Find out more about Ron at typosphere.com.