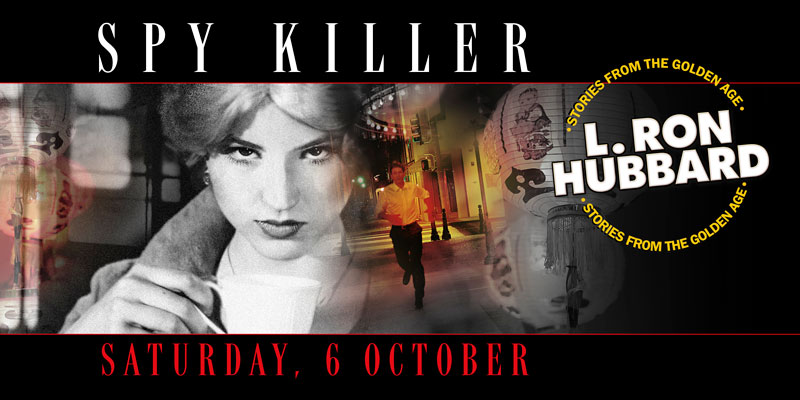 Celebrate the 10th Anniversary of Stories from the Golden Age
Travel to Shanghai and get caught up with Kurt Reid and White Russian Varinka Savischna in a web of intrigue, betrayal and cold-blooded murder where everything and everyone is not who or what they appear to be.
Featuring Jim Meskimen, R.F. Daley, Rajia Baroudi, David Sharp, Johnny Ferretti, Michael Yurchak, and Alies Orozco
Musical preshow by Victoria Summer
---
Prizes for best 1930s/40s outfits • Red carpet with photo opportunities for guests • Special Award Presentation • After-event reception in the L. Ron Hubbard Library • Anniversary cake cutting • Hot & cold buffet with à la carte cappuccino • Free parking—entrance on Sycamore Avenue, just north of Hollywood Blvd.
Children under 8 years free. 
---
Genre: Mystery & Suspense
Story description: American sailor Kurt Reid is a hothead and a hard case—a man who hits first and asks questions later. Scrappy and rough around the edges, it's no wonder that when the ship's captain turns up dead, it's Reid who takes the rap.
Falsely accused and under the gun, Reid jumps ship and vanishes into Shanghai—only to get caught in a web of intrigue, betrayal, and murder. In a world where nothing is what it seems and everything is for sale, he's soon out of his depth, drawn into a spy game in which the winner takes all … and the loser takes a knife to the back.
Will Reid live up to his reputation as the Spy Killer? He'll have to learn the rules fast, because with players like sexy Russian agent Varinka Savischna in the hunt, the game is about to turn as seductive as it is sinister.