Teacher's Choice for the best sci fi novel ever
And we'll throw in the t-shirt for free*
An A+ audiobook production
The full-cast performance of the New York Times bestselling sci-fi novel, Battlefield Earth, will immerse you in the story as the characters come to life. With over 1,800 5-star reviews, this Audie-Award winning, high-quality audio production is perfect for listening to on the go.
• 47½ hours of pulse-pounding action and adventure in high-definition sound.
• State-of-the-art audio engineering and cinematic soundtrack with more than 150,000 sound effects.
• A cast of 67 actors–many of whom are celebrity voices from TV, films, and games–performing 198 characters.
• Plays on any MP3 enabled player. Convenient to listen to in the car, on your device or computer.
Retail price: $35.  Includes BONUS Battlefield Earth T-Shirt for free. *Offer only available online. Valid while supplies last.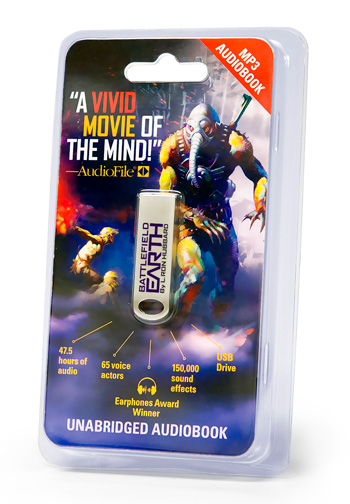 I originally read this book when I was in college. It was an inspiration. The number of scientific inventions to be created provide exciting possibilities for any budding scientist. Battlefield Earth is a winner.

–Diego Martinez, Colorado Lockheed Martin Science Teacher of the Year
Purchase the Battlefield Earth Audiobook USB Drive and we'll include a FREE Battlefield Earth t-shirt as a bonus!
T-shirts are 100% cotton and feature Terl, the Psychlo Security Chief from the novel. Artwork by the legendary artist Frank Frazetta. Select from sizes listed.