Author
&

Artist Collaboration

Steve Pantazis & Daniel Tyka
Today we focus on author Steve Pantazis whose story "Switch" is one of over a dozen award-winning stories in the latest edition of the Writers of the Future anthology published by Galaxy Press.
His story is intense—one I couldn't put down. I asked Steve what made the story special for him and this is what he had to say:
"I loved following my protagonist's story arc. He's a homicide detective addicted to a high-tech drug that he knows he shouldn't be taking—but he can't help himself. He would keep going, but then he investigates the death of a teenage O.D. victim, and everything changes. That prompts him to question his life, his addiction, his choices, and his future with both his career and family. The investigation forces my protagonist to confront his ugliness as an addict and risk everything that matters to him in order to catch the kingpin dealer at the center of it all."
Steve also said "Switch" was inspired by his novel, Godnet. Both stories are set in the same universe. The subplot in the short story links back to one in Godnet, connecting both with a future vision of the Internet called Mindnet. Through Mindnet you will browse, shop and communicate online using a revolutionary neural implant and a network connect—no computer, no phone, no tablet. Just your mind. Can't wait to read it!
As with the other stories in the anthology, we paired up one of the winning illustrators to do the artwork. The artist for Steve's story was Daniel Tyka. Daniel is from Poland and he was able to attend the week-long illustrator workshop and awards ceremony.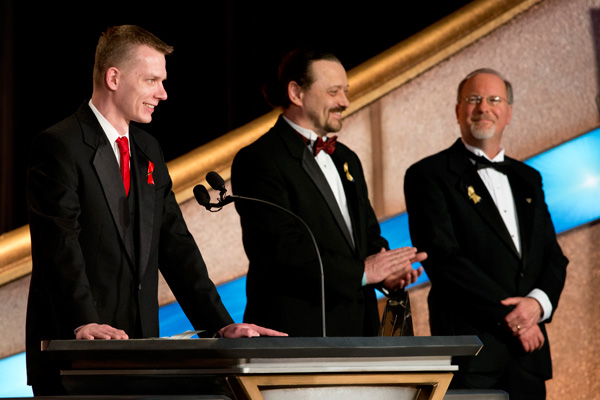 For Daniel, the Illustrator Workshop helped give him a different perspective on how he was looking at things. He particularly enjoyed the live drawing session at Cliff Nielsen's studio, getting mentored by artist Sergey Poyarkovand Gary Meyer from the Art Center in Pasadena—in fact, the whole experience was very memorable for Daniel.
For myself, the art Daniel did for "Switch" captured the whole mood and grittiness of the story. A perfect collaboration of words and art.
You can read Steve's story and see the artwork of Daniels in the soon-to-be-released Writers of the Future Volume 31. Preorder your copy here. In stores nationally on International Star Wars Day…
MAY THE 4TH BE WITH YOU