SHARE THE LOVE OF READING
with great Sci-Fi, Mystery, Suspense, Adventure and more
BATTLEFIELD EARTH AUDIOBOOK
FOR SCI-FI FANS ON THE GO
The best science fiction epic ever, just got better. Hailed by critics and fans alike as a "movie of the mind," the unabridged Battlefield Earth is over 47 hours, featuring 67 actors performing 198 different characters with over 150,000 cinematic quality sound effects that will totally immerse you in the story. Audiobook Heaven declares, "It's like a full-blown feature film inside your head."
Transform any commute, workout or chores into an adventure with this award-winning production wherever you go.
Battlefield Earth MP3 USB Key is only available direct from Galaxy Press. $35
ACTION
&

ROMANCE
ARE THE HEART OF THE STORY

ROMANCE SHORT STORY COLLECTION
As L. Ron Hubbard wrote to one of his editors, "You might have noticed that I am intensely wary of becoming any kind of a story specialist. As you know I have sold the gamut of types: air-war, air, western, detective, love, terror and even light love. The best way I have of keeping my stories alive is by writing all kinds. I love to tie into a yarn and try to make it blaze in print."  Hubbard's passion for writing, creativity and individualism certainly blazes across the pages in these stories of light love with plenty of action and adventure.
Ten sweet romance titles in all: Arctic Wings, Black Towers to Danger, The Devil—With Wings, The Iron Duke, Loot of the Shanung, On Blazing Wings, The Red Dragon, Sea Fangs, Twenty Fathoms Down, While Bugles Blow!
Valentine's Day Special – Save 30% on the whole collection.
Romance Book Collection $100  $69
Romance Audiobook Collection $130 $89
EPIC SCI-FI ADVENTURE
BATTLEFIELD EARTH BOOK & AUDIOBOOK PACKAGE
In one of the bestselling science fiction books of all time, the fate of Earth and all mankind hangs in the balance. The future is uncertain, but one thing's for sure—this is one spectacular gift package for anyone on your list! Over 1,000 pages of epic pulse-pounding adventure, the 21st Century edition Battlefield Earth includes never-before-published handwritten notes by the author about the story, a fascinating in-depth interview with the author and more.
And now the biggest Sci-Fi audiobook ever. A fully immersive experience, it's unlike any audiobook ever produced. Featuring 67 voice actors, the state-of-the-art audio engineering created a wholly cinematic sound track. Recorded in HD audio on 44 CDs, over 47 hours of captivating entertainment for the ultimate "movie of the mind" audiobook experience. Earphones Award Winner.
Save 30% when you purchase both book and audiobook together.
MOVIE OF THE MIND AUDIOBOOKS
THAT PUT YOU RIGHT IN THE STORY
THE L. RON HUBBARD FICTION AUDIOBOOK COLLECTION
Audiobooks like none other. L. Ron Hubbard's stories in our state-of-the-art audiobooks feature a full cast of Hollywood actors. These dramatic performances are accompanied by original music and sound design. Turn one on and it's like listening to a movie, the words and sound effects so vivid, the visuals come to life in your mind's eye.
Choose any genre—Western, Mystery & Suspense, Military & War, Action & Adventure, Historical Fiction and Science Fiction & Fantasy. You're sure to find the perfect story for everyone in your family—from age 8 to 88.
Over 225 hours of non-stop, pulse-pounding action and adventure including: 153 Stories from the Golden Age audio dramas, 15 Hell Job Series stories and the #1 National Bestseller and multiple award-winner Battlefield Earth audiobook—all preloaded on a 128GB iPod player.
Buy the collection and get the iPod player for free. $1,200 Only $999
SATISFY YOUR CRAVING FOR GREAT STORIES
THE COMPLETE L. RON HUBBARD FICTION EBOOK COLLECTION
The perfect way to read the entire L. Ron Hubbard Fiction eBook Collection preloaded on a Kindle Fire HD6.
Over 180 titles in all, spanning six genres including: New York Times bestsellers Battlefield Earth and the complete Mission Earth series, Buckskin Brigades, Fear, Final Blackout, Hell Job Series, Ole Doc Methuselah, Slaves of Sleep & The Masters of Sleep, To the Stars, Typewriter in the Sky, A Very Strange Trip, Ai! Pedrito! and 153 short stories from the Golden Age of Pulp Fiction.
 Purchase the whole collection and get the Kindle Fire HD6 for free. $956 $780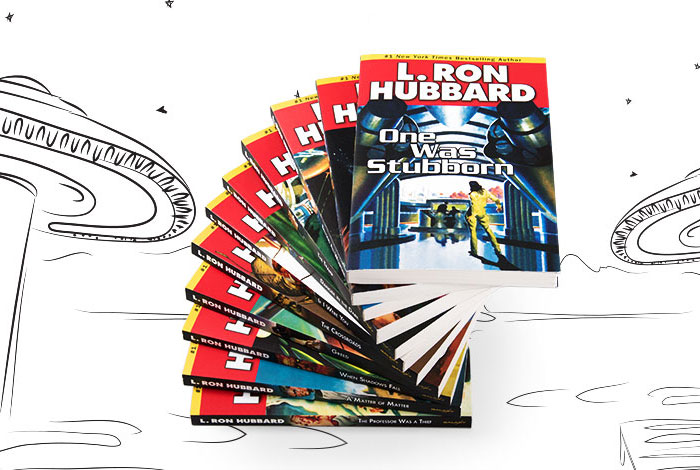 TAKE OFF FOR ADVENTURE INTO UNKNOWN WORLDS
THE SCIENCE FICTION & FANTASY SHORT STORY COLLECTION
As a master of the art of narrative and one of the leaders in the Golden Age of Science Fiction, L. Ron Hubbard's Sci-Fi and Fantasy stories helped reshape the future of speculative fiction. The universe is your oyster as you explore fabulous worlds of unfolding mystery and unlimited potential. Discover the herald of possibility in these out-of-this-world adventures. The 11-book collection includes 32 short stories.
Save 25% on the collection.
Sci-Fi & Fantasy Book Collection $110  $82
Sci-Fi & Fantasy Audiobook Collection $143 $107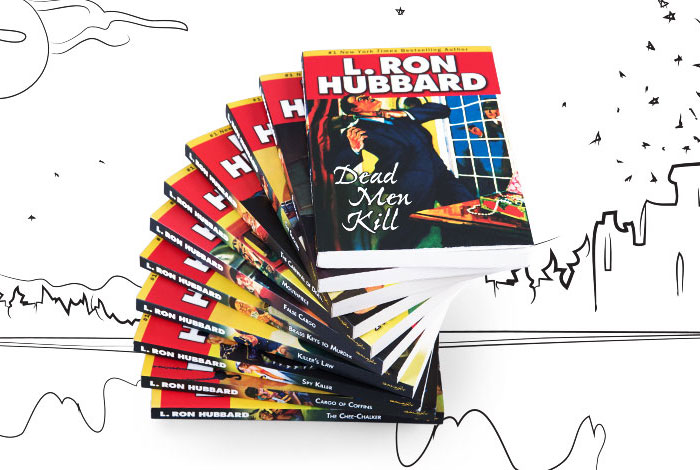 MURDER, MAYHEM
&

MYSTERY
IN HEART-POUNDING SUSPENSE

THE MYSTERY & SUSPENSE SHORT STORY COLLECTION
Cops, mobsters, detectives and newshawks—all ingredients for disaster and elements for the edgy and breakneck detective fiction that was L. Ron Hubbard's trademark style. Whether it was sending a detective after killers who were already dead, or chasing down headhunters, he knew how to thrill readers and keep them guessing until the end. The 11-book collection includes 21 short stories.
Save 25% on the collection.
Mystery & Suspense Book Collection $110 $82
Mystery & Suspense Audiobook Collection $143 $107
SADDLE UP FOR ADVENTURE
WITH LEGENDS OF THE WILD WEST
THE WESTERN SHORT STORY COLLECTION
Ride a trail of blazing guns and two-fisted action in the Wild West as L. Ron Hubbard brings American history to life. Growing up in Montana provided him with the first-hand experience that added a tone of authenticity to his western tales. Readers will feel the heat, taste the dust and hear the thunder of horses' hooves in these tales from a master storyteller of the genre. The 15-book collection includes 34 short stories with glossaries of historical terms.
Save 25% on the collection.
Western Book Collection $149 $112
Western Audio Collection $194 $146
FROM THE HIGH SEAS TO HIGH-FLYING
NON-STOP ACTION
THE ACTION & ADVENTURE SHORT STORY COLLECTION
"Adventure," L. Ron Hubbard said, "I well know, is in the heart, not in the view." In his stories, which were uniquely drawn from true-to-life experiences, including then-rare voyages to Asia and the South Pacific, he adventured grandly, carrying readers into the cold, storm-swept sea, or the heat of a vast desert or the wild currents of the air. A member of the famed Explorers Club, Mr. Hubbard delivered in these stories a sharp jolt of reality with a healthy dose of pulse-pounding bold adventure. The 17-book collection includes 24 short stories and glossaries of historical terms.
Save 25% on the collection.
Action & Adventure Book Collection $169 $127
Action & Adventure Audiobook Collection $210 $165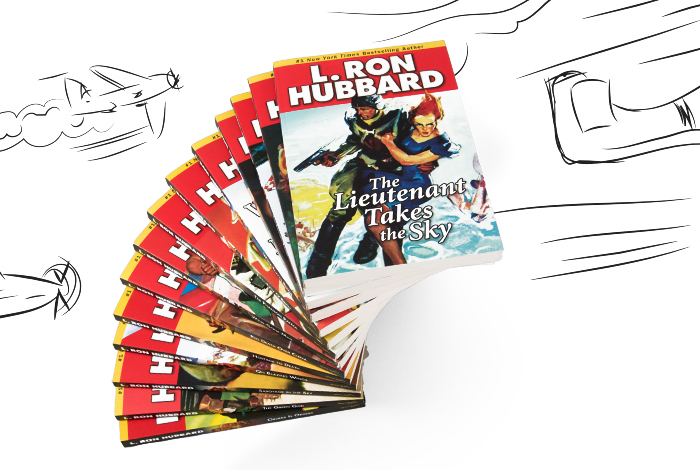 HEROIC TALES
AGAINST IMPOSSIBLE ODDS
THE MILITARY & WAR SHORT STORY COLLECTION
Timeless themes of courage and danger, leadership and honor, along with the bare-knuckle struggle between right and wrong are the hallmark of L. Ron Hubbard's military and war adventures. Experience the action in these tales set against historical backgrounds as the characters face relentless adversaries and overwhelming odds. The 14-title collection includes 25 short stories along with glossaries of historical terms.
Save 25% on the collection.
Military & War Book Collection $139 $105
Military & War Audiobook Collection $181 $136
YOUR PASSPORT TO HISTORY
AND HIGH-SPEED EXCITEMENT
THE HISTORICAL FICTION SHORT STORY COLLECTION
A world traveler and adventurer, L. Ron Hubbard was a keen observer and astute researcher and imbued his fiction with authentic characters, local color and real-life adventure. Whether sailing the high seas with Lord Nelson's fleet, digging in a scorching desert for Alexander's treasure, or ducking bullets across war-torn China, these stories will carry you on adventure to other times and places. The 12-book Historical Fiction Collection includes 17 short stories and glossaries of historical terms.
Save 25% on the collection.
Historical Fiction Book Collection $119 $89
Historical Fiction Audiobook Collection $155 $117