Why traffic jams might be good for you
Because you can "read" a book while driving.
Today the average commuter spends at least an hour a day stuck in traffic. Now you can turn that to your advantage by listening to audiobooks, such as Battlefield Earth. And here's why:
Research has found that audiobooks are essential to reducing stress, boredom or fatigue while driving.
Listening to an audiobook while driving gives you a chance to sink into a story and catch up on bestsellers.
Audiobooks are really convenient. You can listen to them on your phone, iPod, computer and in the car. With Battlefield Earth we've put 47½ hours of entertainment on a USB drive you can carry in your pocket.
The full-cast performance of the New York Times bestselling sci-fi novel, Battlefield Earth, will immerse you in the story as the characters come to life. With over 1,800 5-star reviews, this Audie-Award winning, high-quality audio production is perfect for listening to on the go.
• 47½ hours of pulse-pounding action and adventure in high-definition sound.
• State-of-the-art audio engineering and cinematic soundtrack with more than 150,000 sound effects.
• A cast of 67 actors–many of whom are celebrity voices from TV, films, and games–performing 198 characters.
• Plays on any MP3 enabled player. Convenient to listen to in the car, on your device or computer.
Retail price: $35.  Includes BONUS Battlefield Earth T-Shirt for free. *Offer only available online. Valid while supplies last.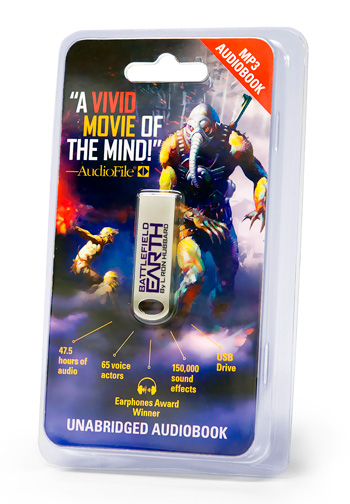 Purchase the Battlefield Earth Audiobook USB Drive and we'll include a FREE Battlefield Earth t-shirt as a bonus!
T-shirts are 100% cotton and feature Terl, the Psychlo Security Chief from the novel. Artwork by the legendary artist Frank Frazetta. Select from sizes listed.
Battlefield Earth Audio on USB Drive $35.
To place your order, select the t-shirt size below: